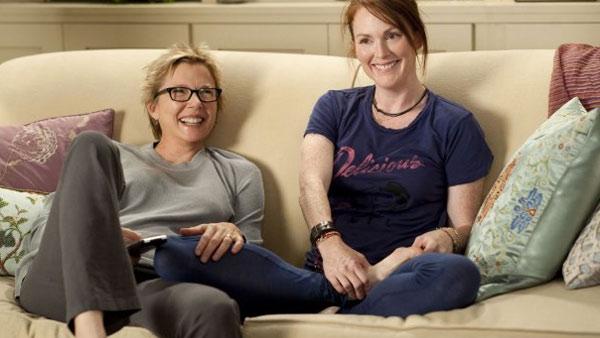 Annette Bening and Julianne Moore play lesbian moms in 'The Kids Are All Right,' which earned four Oscar nods for the 2011 Academy Awards - Actor in a Supporting Role for Mark Ruffalo, Actress in a Leading Role for Bening, Writing (Original Screenplay) and Best Picture.
This is Bening's fourth Oscar nomination. She also received nods for her roles in films 'Being Julia' in 2004, 'American Beauty' in 1999 and 'The Grifters' in 1990.
This is the first Academy Award nomination for Ruffalo, who plays the sperm donor of the mothers' two children. Ruffalo has also starred in movies such as '13 Going on 30' and 'Eternal Sunshine of the Spotless Mind' in 2004 and plays Bruce Banner, aka the Incredible Hulk, in the new 'Avengers' film.
(Pictured: Annette Bening and Julianne Moore appear in a scene from the 2010 movie 'The Kids Are All Right.') (Suzanne Tenner / Overture Films)