On The Red Carpet The Show
"On The Red Carpet" is a weekly entertainment news show that highlights the best of the week in the world of celebrity and style. "On The Red Carpet" and OnTheRedCarpet.com give you front row access to premieres, award shows, special events, celebrity interviews, red carpet fashion, movie news and much more.
"On The Red Carpet" is hosted by Rachel Smith, Miss USA 2007.
WHEN TO WATCH | FREE IPAD APP | CONTACT US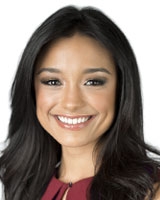 While hosting "On The Red Carpet" and contributing to "Good Morning America," Rachel has traveled the globe to cover the world of entertainment.
She has reported from countless awards shows including the Oscars, Grammys, Golden Globes and many more.
Rachel has also interviewed a dazzling array of stars, from Hollywood royalty like George Clooney, to hot up-and-comers like Jennifer Lawrence.
In 2007, Rachel captured the title of Miss USA, representing her home state of Tennessee.
She graduated Magna Cum Laude from Belmont University in Nashville with a degree in journalism.
When not covering entertainment news, Rachel loves playing with her dog, Spike, a schnoodle, which she is quick to point out is a cross between a schnauzer and a poodle.
Follow Rachel Smith on Facebook
Follow @RachelOTRC on Twitter
Stay Informed: