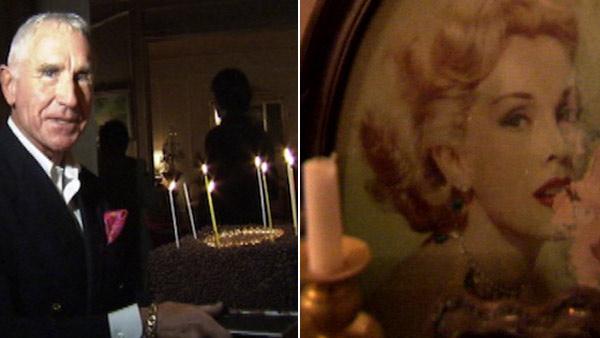 Zsa Zsa Gabor, 94, toasts husband Frederic Prinz von Anhalt's 68th birthday (Photos)
06/20/2011 by OnTheRedCarpet.com Staff
Zsa Zsa Gabor, 94, and her husband Frederic Prinz von Anhalt recently celebrated his 68th birthday at their home, more than a week after she was released from a hospital following a series of heath scares.
Gabor is seen in photographs provided by the couple's spokesperson sitting on a medical bed in a room, holding a glass of champagne and toasting von Anhalt. Beside her is a wooden table with a vase full of yellow roses.
The pictures were taken in the bedroom of the couple's Bel Air mansion, which was put on sale for $15 million earlier this month.
The retired actress and former socialite has been out of the spotlight in recent years. She has suffered from several health ailments and has been in and out of the hospital since the summer of 2010.
Gabor, who is partially paralyzed from a 2002 car accident and uses a wheelchair, broke her hip last July after falling out of her bed while reaching to answer her telephone as she was watching "Jeopardy!."
She underwent a hip operation and suffered several complications. During one of her hospital stays in August, she had a priest read her last rites. In January 2011, Gabor had one of her legs amputated after doctors found an infection and antibiotics failed to heal it.
She was most recently hospitalized after being treated for an infection and underwent surgery to have a new feeding tube installed. Gabor was released home on June 10.
"She's the only thing I have, if she dies I don't have anybody else to live for," Prinz Von Anhalt told OnTheRedCarpet.com back in May. "She does not want to be left alone. I sleep in a couch with my feet dangling but that's okay, we made promises that we would take care of each other until the end. I know she would do the same for me."
Gabor was also hospitalized in March, after the death of her friend, actress Elizabeth Taylor. Von Anhalt said his wife was "inconsolable."
Gabor is reported to have been born in Budapest on Feb. 6, 1917 as Sari Gabor. She married von Anhalt in 1986. Gabor was married to Hilton, the great-grandfather of socialite Paris Hilton, from 1942 to 1947, and they had one daughter - Francesca, who is the actress' only child.
Gabor followed her actress sister Eva to Hollywood, where she later starred in movies herself, starting in 1952 with the films "Lovely to Look At," "We're Not Married!" and "Moulin Rouge." She also played herself in a brief scene in the 1991 Leslie Nielsen cop movie "The Naked Gun 2-1/2: The Smell of Fear," in which she parodied an incident from about a year earlier in which she was convicted of slapping a police officer during a traffic dispute. She also had a cameo in the film "A Very Brady Sequel" in 1996.
Von Anhalt, who claims to be a German prince, has himself made headlines over the years.
In 2007, he declared that he might be the father of Anna Nicole Smith's baby after the Playboy model died in Florida and also reported to police that he'd been mugged after he was found naked in his Rolls-Royce. In 2010, von Anhalt joined California's race for governor and has also said he may run for mayor of Los Angeles.
In April, von Anhalt told the Agence France-Press news wire that he wants his wife to have a second child using a surrogate mother, saying" "I don't know how long she's going to be with me. I would like her to see the baby, I would like her to hear the baby screaming, to touch the baby's hair. If she dies before me, then I've nothing to live for."
The idea is not sitting well with Gabor's only child, Francesca Hilton, who is a comedienne. She has squabbled for years with her mother and with von Anhalt and has voiced disapproval over their marriage in the past. Her father is Paris Hilton's great-grandfather and hotel magnate Conrad Hilton. He was the actress' second husband.
Francesca Hilton had said in a statement that she is "shocked but not surprised" that her stepfather "continually creates publicity for himself at the expense of the legacy of her mother."
(Copyright ©2014 OnTheRedCarpet.com. All Rights Reserved.)
Sign up Stay Informed
Entertainment News