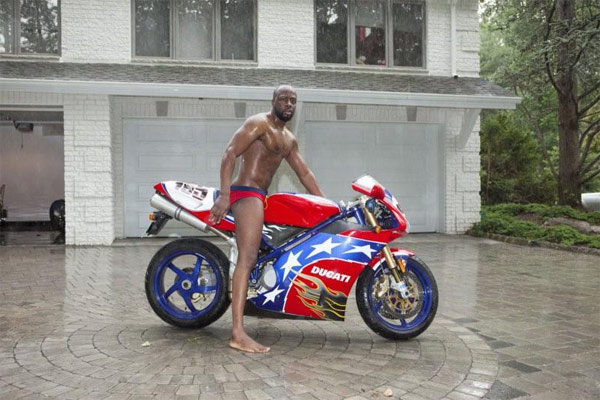 Wyclef Jean poses half-naked on motorcycle for 43rd birthday (Photo)
10/18/2012 by OnTheRedCarpet.com Staff
Want to see Wyclef Jean in his birthday suit? How about half a suit?
The Haitian-American former Fugees rapper and R&B star turned 43 on Wednesday morning and marked the occasion by showing off his toned, half-naked figure in a photo posted on his Twitter page. He is barefoot and is wearing red briefs, which he later said was Speedo swimsuit, while straddling a red, white and blue Ducati motorcycle parked in a driveway of a house.
"TODAY I AM 43 YEARS OLD!" wrote Jean, who lives with his wife and daughter in New Jersey. "I look And feel 26! U cant keep a good Man down! Keep a smile when they want you to frown! The difference by age and experience? The first is number we are given, the second is the life we lived ... As for experience I feel 120. (sic)"
The Grammy-winning artist reTweeted several birthday messages from his fans. Later on Wednesday evening, Jean spent time on the set of the new ABC country music-themed drama series "Nashville," which is filmed in the city. Show creator Callie Khouri praised him on Twitter, saying: "@wyclef you're my new superhero. I just fired all the others. You're it."
Jean posted a photo of himself wearing an actual suit and standing with several cast members. He also Tweeted: "I Hope when i send my pic in my suit on the set of Nashville..it Gets just as much RT's as my speedo pic on my Ducati!"
Jean is currently promoting his new book, "Purpose: An Immigrant's Story," which was released in September. On Thursday, October 18, Jean is set to give an acoustic performance at the City Winery in New York City.
"Bring me a gift," the birthday man said. "I start playing at 8 oclock (sic)."
(Copyright ©2013 OnTheRedCarpet.com. All Rights Reserved.)