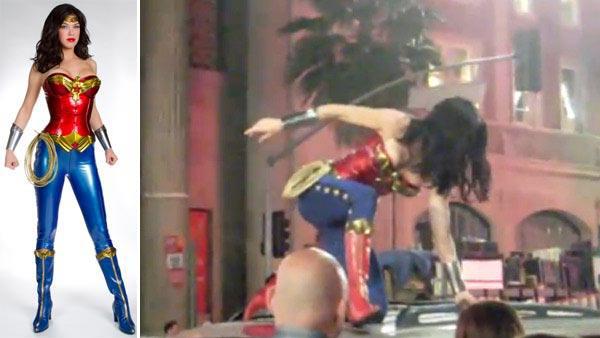 'Wonder Woman' pilot rejected by NBC
05/13/2011 by Corinne Heller
A "Wonder Woman" pilot that had featured Adrianne Palicki of "Friday Night Lights" did not appear to impress NBC, which has decided not to pick up the television adaption of the hit DC comic book series, a cast member says.
"I am very sad that NBC passed on Wonder Woman," Tracie Thoms, who was cast as Etta, best friend of heroine Diana Prince, said on her Twitter page on Thursday, May 12. "But that just goes to show you: There is no such thing as a 'sure thing' in this biz."
In the new project, which generated a lot of online buzz earlier this year, Prince, played by Palicki, is a vigilante crime fighter and successful corporate executive in Los Angeles. Filming on the pilot took place in March. But NBC opted not to air the project after a "network screening that went poorly," the Hollywood Reporter said.
Palicki's costume underwent a revamp after it was largely criticized for being too "costume-like" and less patriotic than the original 1976 outfit worn by Lynda Carter in a former television series.
Carter had defended the new costume, and talked about how excited she was for the upcoming series.
The pilot was spearheaded by "Ally McBeal" and "Boston "Legal" showrunner David E. Kelley. Elizabeth Hurley portrayed Veronica Cale, a villain
, while
Cary Elwes
of the fantasy movie "The Princess Bride" played CEO of Prince's company.
A "Wonder Woman" film is also being developed by Warner Bros. Pictures and is as of now set for release in 2013, according to preliminary casting lists. "Mad Men" star Christina Hendricks has expressed interest in the project.
When asked by the UK newspaper The Times about reports that said she may star in a "Wonder Woman" adaptation, former "Transformers" actress Megan Fox called the character a "lame superhero."
Carter said the actress should not have "trashed" her former character.
(Copyright ©2014 OnTheRedCarpet.com. All Rights Reserved.)