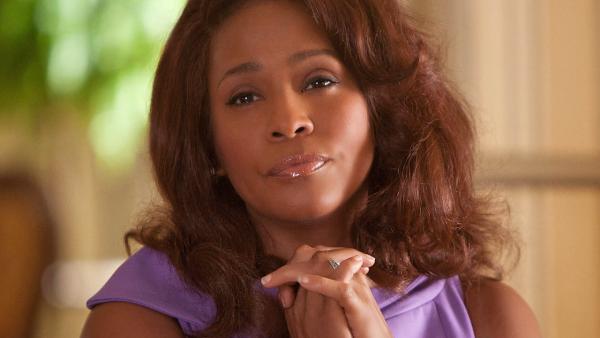 Whitney Houston dies at 48, stars attend pre-Grammy gala at hotel where she died
02/11/2012 by Corinne Heller
<Whitney Houston died at age 48 at a hotel in Beverly Hills, California on Saturday, February 11, a day before the 2012 Grammy Awards, whose producers are already planning a tribute to the iconic singer.
Houston's body was found inside a bathtub in a room on the fourth floor of the Beverly Hilton hotel in Beverly Hills, California, OnTheRedCarpet.com has learned.
NOTE: The official cause of death was found weeks later. Houston died of accidental drowning, spurred by cocaine use and a preexisting heart condition.
On the day she died, investigators for the Los Angeles County Coroner's Office worked on the scene to find the cause of her death as celebrities poured into the building for a pre-Grammy gala that Houston was supposed to attend. Producer Clive Davis, her mentor, dedicated the event to her (see photos). The Coroner's Office workers transferred Houston's body out of the building early on Sunday.
Beverly Hills police Lt. Mark Rosen said authorities received a 911 call from hotel security at 3:43 p.m. There were "no obvious signs of foul play and no obvious signs of a cause of death," he said.
"Upon arrival, first responders discovered Whitney Houston unresponsive," police said in a statement obtained by OnTheRedCarpet.com. "They initiated CPR, but were unable to revive her. At approximately 3:55 p.m. Whitney Houston, age 48 was pronounced dead at the scene."
"Whitney Houston was positively identified at the scene by members of her entourage which included friends, co-workers and family," the statement added."Ms. Houston's daughter and mother were notified of her death."
Police would not say if any drugs or alcohol were found in the room. The pop, soul and R&B singer had struggled with substance abuse for years. She relapsed and returned to rehab in May.
Update February 12, 5:06 p.m. - Whitney Houston's official cause of death is deferred pending toxicology report and further testing, LA County Coroner's spokesman said on February 12. The spokesperson did confirm she was found in the bathtub and there were no visible signs of trauma. Foul play is not suspected at this time.
Houston was set to perform on Saturday at the Beverly Hilton at a pre-Grammy gala for producer Clive Davis, who discovered her. The event took place as scheduled. A crime lab bus was seen parked outside as guests gathered inside the building. Davis and scheduled performer R&B singer Alicia Keys embraced in front of the vehicle.
"It's semi-festive and .. surreal," television personality Larry King, 78, told CNN. "I've never been at a party like this. Her remains are still in this hotel. They haven't removed them yet. The police are here. Crowds are outside. The room is packed."
Davis dedicated the event to Houston.
"Whitney loved music and loved this night that celebrates music. Whitney was a beautiful person with talent beyond compare. She gave so many memorable performances here over the years. Her family asked that we carry on," he told guests, according to MTV.
The Grammy ceremony's executive producer, Ken Ehrlich, told CNN that Sunday's Grammy Award ceremony will include a tribute to Houston that would be "appropriate to Whitney's memory."
"I've asked Jennifer Hudson to come and we're really at this moment talking about what she's going to do," he said, referring to an "American Idol" alum who was presented with a Grammy by Houston at the 2009 ceremony and whose long-ranging voice has been compared to the late singer's. Hudson also performed a tribute to Houston at the 2010 BET Honors in Washington in 2010.
"It's not going to be a full-blown tribute," Ehrlich said about the Grammys. "That's too early and it's too fresh at this moment. It's going to be something respectful to Whitney's memomy. We've gone through the script and we've made a few changes It's still going to be a great music show. I think, knowing Whitney as I did ... she knew the importance of thrilling an audience and that's what we still plan to do tomorrow."
The Grammy ceremony is also expected to include tributes to singer Etta James, who passed away in January, and "Soul Train" creator Don Cornelius, who died earlier this month. (See which other celebrities died in 2012)
BOBBY BROWN: 'I LOVE YOU WHITNEY'
Houston's ex-husband, singer Bobby Brown, with whom she had a turbulent relationship, responded to news about her death just before performing at a reunion concert for his former group New Edition in Southaven, Mississippi.
"First of all, I want to tell you that I love you all," he told the sold-out crowd. "Second, I would like to say, I love you Whitney. The hardest thing for me to do is to come on this stage."
During an intermission, Houston's 1985 song "You Give Good Love" was played over the speakers, prompting scores of fans to stand up and sing along, OnTheRedCarpet.com has learned.
Houston was known for her wide vocal range and hits such as the ballad "I Will Always Love You," a Dolly Parton cover that was the lead single on the soundtrack of the 1992 film "The Bodyguard," which marked Houston's big screen debut. Parton said on her website on Saturday: "'I will always be grateful and in awe of the wonderful performance she did on my song, and I can truly say from the bottom of my heart, 'Whitney, I will always love you.'"
Houston, a cousin of singer Dionne Warwick, began her music career as a child, singing at her church in her native New Jersey. Houston had consecutive No. 1 hits in the 1980s, including '"I Wanna Dance with Somebody (Who Loves Me)" and "So Emotional."
Houston won six Grammy Awards, 30 Billboard Music Awards, 22 American Music Awards and two Emmy Awards during her long career. She was one of the world's best-selling musicians, having sold over 170 million albums and singles worldwide.
Simon Cowell, a British music mogul who rose to fame in the United States with "American Idol," told CNN that Houston's voice was "so distinct, so incredible and that's what she's going to leave behind."
Cowell, 52, said he and producers of his FOX series "The X Factor" had "ironically" planned to discuss on Monday the possibility of having Houston join the celebrity cast, adding: "I would have liked to have taken her under my wing as well because she would have been the ultimate, ultimate mentor to any contestant coming on that show." (Check out other celebrity reactions to Whitney Houston's death.)
Houston's last major record was "I Look to You," her seventh studio album. She had last year worked on a new movie, "Sparkle," which marked her return to the big screen since the release of "Cinderella" in 1997. She had also starred with Brown on a reality show that aired on the cable channel Bravo in 2005.
"Sparkle" is set for release in August. Houston plays the mother of a young singer, played by former "American Idol" winner Jordin Sparks. The story movies is about three sisters who form a successful singing group and then face the consequences of fame, such as problems with drugs.
PAST DRUG PROBLEMS
Before her relapse last May, Houston underwent treatment for drug and alcohol abuse in 2003 and 2004. In her infamous 2002 interview with ABC News' Diane Sawyer, Houston said, "The biggest devil is me. I'm either my best friend or my worst enemy."
She also denied using crack cocaine, telling Sawyer, "Crack is cheap. I make too much for me to ever smoke crack. Let's get that straight, Okay? I don't do crack. I don't do that. Crack is whack."
She told Sawyer that she has used alcohol, marijuana, cocaine and prescription drugs at different points during her career.
"I partied a lot," she said. " Trust me, I partied my tail off. You get to a point where you know the party's over."
In 2000, the singer was detained at a Hawaii airport after a security guard said some 15 grams of marijuana were found in her purse. The drug possession charge was later dismissed.
Houston leaves behind one daughter, Bobbi Kristina, who was born in 1993. Houston married her father, Brown, in 1992 and filed a domestic abuse charge against him the following year. The pair got divorced in 2007.
Houston was believed to have dated R&B artist Ray J on and off since 2007. Ray J is the brother of singer Brandy and famously starred in a sex tape with reality actress Kim Kardashian that was leaked in 2006. He and Houston have spent time together in recent days and on February 3, they were photographed leaving a Los Angeles restaurant and getting into a car. He has not commented on her death.
On Thursday, Houston was photographed leaving a Hollywood night club with what appeared to be a cut below her wrist and dried blood stains on her legs, as seen on MediaTakeOut.com. (See more photos of her at the event).
Houston was at the Tru Hollywood nightclub for the pre-Grammy event, "Kelly Price & Friends Unplugged: For The Love Of R&B Grammy Party." During the night, Kelly Price called Houston up on stage and the pair sang a duet of "Yes, Jesus Loves Me," (See a video) which was to be Houston's final performance.
Houston was surrounded by friends and family at the event, which was attended by her daughter Bobbi Kristina Brown, 18. Houston was said to be in good spirits and danced from her spot in the club's VIP area.
"Whitney was family to me. I know she would want people to remember her profound talent and to think of her in a positive light," veteran singer and friend Smokey Robinson told CNN. "She was a nice person and I know that she would want to be remembered that way, rather than being remembered for her problems."
(Copyright ©2014 OnTheRedCarpet.com. All Rights Reserved.)
Sign up Stay Informed
Entertainment News