Entertainment News: tyler perry
05/25/2013
Writer, director and actor Tyler Perry surprised some Finland Middle School students in Columbus, Ohio with a visit to their musical concert, on Friday, May 24. He also donated $100,000 to help the student the athletes in the city's South-Western schools.
Perry said he learned about Finland Middle School after seeing an episode of "Real Sports with Bryant Gumbel" on HBO that featured one of the school's teachers, Mary Mulvany, according to The Columbus Dispatch. Video of Perry's visit to the school can be viewed below.
More tyler perry
01/31/2013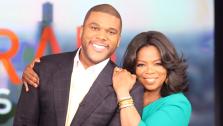 Tyler Perry's gift to Oprah Winfrey for her 59th birthday proved to be a little too much for the television personality to carry.
Winfrey, who celebrated her birthday on January 29, reportedly injured her back after trying to pick up a flower arrangement sent to her by Perry, according to a post written by Perry on his official Facebook page on January 30 titled "I FEEL SO BAD."
11/28/2012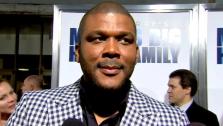 Tyler Perry is in some hot water after an author is accusing the director of copyright infringement.
Terri Donald, an American author who sometimes credits herself as TLO Red'ness, is claiming that the American director based his 2012 movie "Good Deeds" on the plot of her 2007 book, "Bad Apples Can Be Good Fruit," according to Reuters.
10/20/2012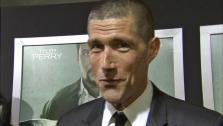 Matthew Fox, known best for playing a family patriarch on "Party of Five" and a hero on ABC's "LOST," switches gears to play a serial killer in the new action film "Alex Cross" - and the transformation was not just psychological.
"I lost 35 pounds," Fox, 46, told OTRC.com at the movie's premiere. "And it was really hard ... I was never sure I could do something like that. I proved that I could. I had a lot of help. I had somebody to help structure a nutritional plan and a workout plan ... I was really dedicated to it and committed to it and I didn't cheat."
10/19/2012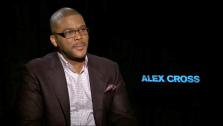 Comedy actor and producer Tyler Perry was reluctant to take on the title role in "Alex Cross," his first action film, which also features "LOST" alum Matthew Fox as a demented serial killer named Picasso.
Morgan Freeman originally played Alex Cross in the 1998 film "Kiss the Girls" and in the 2001 film "Along Came a Spider."
10/17/2012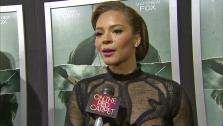 Carmen Ejogo talks to OTRC at the October 15 premiere of her action thriller 'Alex Cross' in Los Angeles.
10/01/2012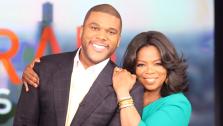 Oprah Winfrey has teamed up with popular producer and actor Tyler Perry to develop the first original scripted programs for her OWN cable channel.
Perry, known for hit comedies such as "House of Payne," "Meet The Browns" and "For Better Or Worse," will executive produce, write and direct two new shows, OWN said in a statement to OTRC.com on Monday. Their plots and casts have not been revealed.
08/28/2012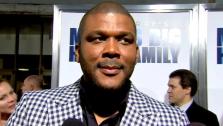 Tyler Perry's studios in Atlanta caught fire on Monday for the second time in almost four months, while there were no reports of injuries or damage.
The cause of the latest blaze, which was knocked down later in the day, is under investigation. An Atlanta Fire Department spokeswoman told the Atlanta Journal-Constitution that it was confined to a roof of a building whose roof had been undergoing repairs.
07/27/2012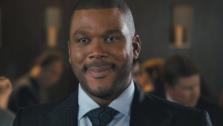 Tyler Perry utilized his social media accounts to pay homage to the late Sherman Hemsley, who passed away on July 24.
"We'll miss you so much Sherman. May you rest in peace," Perry Tweeted on July 26.
07/01/2012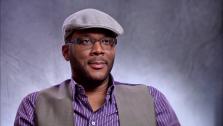 Tyler Perry revealed that his "Madea's Witness Protection" co-star Denise Richards does a pretty good impression of the lead character Madea.
"I didn't know her comedic chops were what they were, but it was very hard for her to keep a straight face," Perry said in an interview provided by the Lionsgate, which is releasing the film. "Doing a scene where Madea has given her some advice on how to handle a situation and to watch her imitate Medea, that's worth the price of admission."
06/25/2012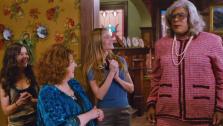 Watch the trailer for 'Madea's Witness Protection,' which stars Tyler Perry, Eugene Levy and Denise Richards.
03/30/2012
Bobbi Kristina Brown was cast in a recurring role in the Tyler Perry sitcom, "For Better or Worse," according to reports.
The 19-year-old daughter of the late Whitney Houston is set to join the cast in a recurring role on the TBS series, according to People magazine.
08/10/2011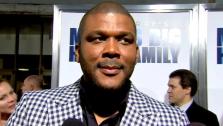 Tyler Perry is reportedly going the way of Oprah and is in negotiations to head his own cable channel with the help of Lionsgate.
According to the New York Times, the new venture will be called Tyler TV and will capitalize on Perry's "flourishing African-American fan base."
Sign up Stay Informed
Entertainment News