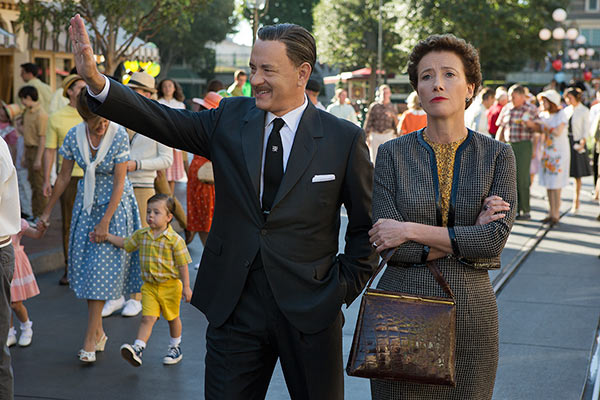 Tom Hanks plays Walt Disney in 'Saving Mr. Banks' (Trailer, 7 facts)
07/11/2013 by Corinne Heller
Tom Hanks sports a mustache to play none other than Walt Disney in the new film "Saving Mr. Banks" and the first image and trailer for the movie has been released.
The feature offers a behind-the-scenes look at the early stages of the making of the 1964 musical film "Mary Poppins," which starred Julie Andrews. "Saving Mr. Banks" shows how the founder of the Walt Disney Company persuaded a very reluctant P.L. Travers, the British author of the book series by the same name, to allow her beloved story to be brought to the big screen.
Emma Thompson plays Travers. A first official photo from "Saving Mr. Banks." shows her and Hanks in character on Main Street in Disneyland.
<p.In the trailer, songwriters are seen singing early versions of "Chim Chim Cher-ee" and "Superfragilisticexpialidocious" and an assistant tells Disney that Travers won't approve American star Dick Van Dyke to play chimney sweep Burt. The video opens with his quote: "Winds in the east, mist coming in. / Like somethin' is brewin' and 'bout to begin."
"Saving Mr. Banks" is set for release on Dec. 13.
7 facts about "Saving Mr. Banks" and "Mary Poppins"
1. "Saving Mr. Banks" also stars Colin Farrell, Paul Giamatti, Jason Schwartzman, B.J. Novak, Bradley Whitford, Annie Rose Buckley, Ruth Wilson, Rachel Griffiths and Kathy Baker.

2. John Lee Hancock is the director. He also directed the "The Blind Side" and wrote its screenplay. He was also the screenwriter of "Snow White and the Huntsman." 3. In the 1940s, Walt Disney's daughters, Sharon and Diane, begged him to turn "Mary Poppins" into a movie.

4. Travers was not keen on the idea at first but agreed in 1961 to travel to Los Angeles to talk about it.

"Mary Poppins is not for sale. I won't have her turned into one of your silly cartoons," Travers says in "Saving Mr. Banks."

5. It took Walt Disney 20 years to secure the film rights to "Mary Poppins." He died at age 65 in 1966, two years after the movie opened.
6. "Saving Mr. Banks" is the first movie to show Walt Disney.

7. P.L. Travers based the character of Mr. Banks on her father, who like the character, was a banker. In "Mary Poppins," he is the stern patriarch of a family that ends up hiring a quirky and wonderful nanny, Mary Poppins, who changes their life. David Tomlinson, who played Mr. Banks in the film and also starred in Disney's "Bedknobs & Broomsticks," died in 2000 at age 83.
Bonus fact: Dick Van Dyke told CNN in 2009 that Travers "didn't like Julie or me," adding: "She thought we were both wrong. She felt Mary should have been plump and grandmotherly and that Bert should have been a Cockney." Travers died in 1996 at age 96.
(OTRC.com, parent company KABC Television and ABC News are products of the Walt Disney Company.
(Copyright ©2014 OnTheRedCarpet.com. All Rights Reserved.)