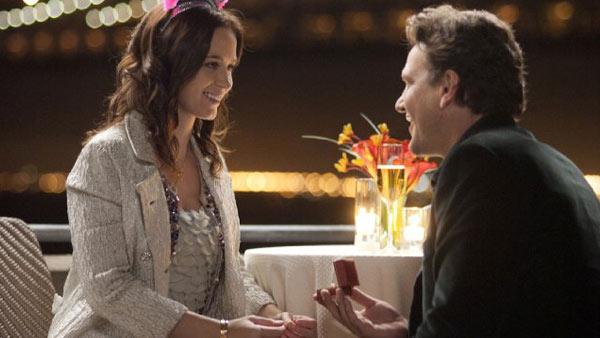 'Think Like a Man' beats out 'Five-Year Engagement' in Friday's box office
04/28/2012 by Olivia Allin
"Think Like a Man," the romantic comedy based on a book by Steve Harvey, beat out new release "The Five-Year Engagement" at the box office on Friday.
In "The Five-Year Engagement, Emily Blunt and Jason Segel play a couple who keep delaying their wedding after being forced to move to Michigan for a job. The movie earned an estimated $3.5 million on Friday, underperforming and landing in third at the box office.
Expectations were higher for the R-rated comedy, which cost $30 million to produce. The Universal film is expected to earn around $10.3 million for the weekend.
"Think Like a Man" topped the box office with an estimated $5.5 million, for a cume of $48.4 million. according to the Hollywood Reporter. The film follows four couples. The women become hooked on TV personality Steve Harvey's 2009 book, "Act Like a Lady, Think Like a Man," and try to use his relationship advice on their guys. In response, the men act to turn the tables on their ladies.
The film also features performances by Michael Ealy, Taraji P. Henson, Chris Brown, Kevin Heart and Gabrielle Union. The movie was reportedly produced for $13 million.
In second place on Friday was last week's release, "The Lucky One" with Zac Efron. The film, based on a novel by "The Notebook" writer Nicholas Sparks, which made an estimated $3.9 million on Friday, for a 32.5 million cume.
Efron bulked up to play a Marine named Logan Thibault, who survived three tours of duty in Iraq. Logan credits his safety to a photograph of a woman he found while in Iraq and sets out to find out who she is. He later discovers the woman is named Beth (played by Taylor Schilling) and he begins working at her dog kennel to try to work up the courage to reveal his story.
Landing in fourth in Friday's box office was Jason Statham's action flick "Safe," which grossed $2.6 million. The movie follows a young girl named Mei (Catherine Chan) is wanted by the Triads, the Russian mob and corrupt New York City cops for her knowledge of a priceless numerical code. A former cage fighter (Jason Statham), whose life was also destroyed by the girl's pursuers, comes to her rescue.
John Cusack's "The Raven" came in a close fifth place, earning $2.5 million. The film follows Cusack's Edgar Allan Poe, who helps a Baltimore detective track down a serial killer whose horrific murders mirror the dark writer's works.
Other releases included the Aardman animated movie, "Pirates! Band of Misfits" and Jack Black's "Bernie," which received a limited release and will expand to more theaters on May 4.
"Pirates! Band of Misfits" follows a band of pirates, whose captain (Hugh Grant) is determined to defeat rivals Black Bellamy (Jeremy Piven) and Cutlass Liz (Salma Hayek) for the Pirate of the year Award.
"Bernie" is based on the true story of mortician and convicted murderer Bernhardt Tiede (Black), who confessed to killing a wealthy 81-year-old widow named Marjorie Nugent (Shirley MacLaine) in 1996. Prior to admitting the crime, however, Bernie tried to convince everyone that she was still alive.
Watch trailers for "The Five-Year Engagement," "Safe," "The Raven," "Pirates! Band of Misfits" and "Bernie" below.
(Copyright ©2013 OnTheRedCarpet.com. All Rights Reserved.)
Sign up Stay Informed
Entertainment News