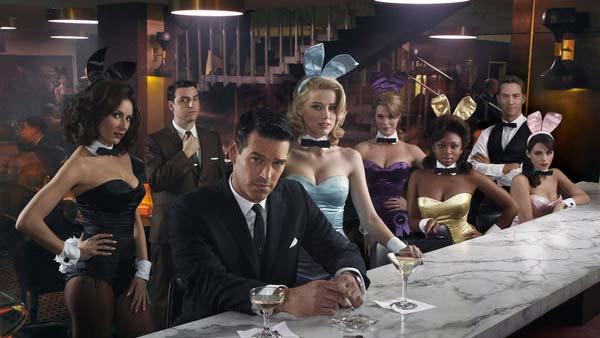 'The Playboy Club' is canceled by NBC after 3 episodes
10/04/2011 by Corinne Heller
Eddie Cibrian's new NBC series "The Playboy Club," has been canceled after three episodes, which earned lackluster ratings and drew controversy by a watchdog group, which called the show "too racy." NBC representatives have not commently publicly. "The Playboy Club" is set in the early 1960s, at the legendary Playboy Club in Chicago. Cibrian plays Nick Dalton, a playboy attorney who comes to the aid of new Playboy Bunny Maureen (
Amber Heard
) after she accidentally kills the patriarch of the Bianchi crime family. A source close to the matter confirmed to OnTheRedCarpet.com on Tuesday, October 4, that the network will not air additional episodes of "The Playboy Club." Repeats of the show "Prime Suspect" will be shown during its time slot of Mondays at 10 p.m. until October 31, when it will be occupied by the new series "Rock Center With Brian Williams." The show debuted on September 20 to a rating of 1.6 among adults aged 18 to 49. Monday's episode drew a rating of 1.2., ranking it below CBS show "Hawaii Five-O," which led the time slot, and ABC series "Castle." The
Parents Television Council began criticizing "The Playboy Club" even before it premiered, saying in July that it was "too racy."
Promotional spots and screeners were distributed to many press outlets during that time. The group n September 27 called for NBC to cancel "The Playboy Club." The Parents Television Council said in statement to OnTheRedCarpet.com on Tuesday, in response to the cancellation, that airing the show in the first place constituted a "poor programming decision from the start" and a "violation of the public trust." The group had said in a previous letter to NBC that it feels the show glamorizes pornography and urged the network to stop airing promos for the series during family-friendly programs and before 10 p.m. They also noted that Utah NBC affiliate KLS already decided not to air the show, stating that their values are "completely inconsistent with the Playboy brand." The conservative advocacy group has frequently criticized programs on Comedy Central, E!, FX, MTV, BET and VHI because they claim that some of their content is inappropriate for younger viewers. The popular CW series "Gossip Girl" and the now-canceled MTV show "Skins" have both been targeted by the PTC. Also on Tuesday, NBC said in a statement it had ordered full seasons for its new shows "Up All Night" and "Whitney." News of the cancellation of "The Playboy Club" comes a day after
E! News reported that a driver crashed into fence surrounding the home of Cibrian's wife, singer LeAnn Rimes
. "To address the accident that happened in front of our home this morning,
everyone is ok and safe," Rimes Tweeted
. "However, if drunk driving was involved it is terribly sad. My family could have been seriously injured and any situation where someone is drinking and driving should not be taken lightly. Needless to say, it was a very unsettling call to receive this morning. Thank goodness the young driver and everyone at home are ok."
(Copyright ©2014 OnTheRedCarpet.com. All Rights Reserved.)
Sign up Stay Informed
Entertainment News