Entertainment News: the beach boys
09/27/2012
Mike Love and Bruce Johnston will continue to tour as The Beach Boys without original members Brian Wilson and Al Jardine and longtime band member David Marks.
The two musicians announced the news in a statement last week. According to CNN, the statement said, "The post-50th anniversary configuration will not include Brian Wilson, Al Jardine and David Marks. The 50th Reunion Tour was designed to be a set tour with a beginning and an end to mark a special 50-year milestone for the band."
More the beach boys
03/15/2012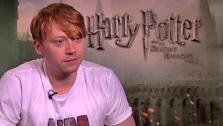 Rupert Grint of "Harry Potter" fame and Chloe Grace Moretz, who recently appeared in Martin Scorsese's "Hugo," have been cast together in "The Drummer."
The new film is a biopic about Dennis Wilson, the iconic 1960s rock group The Beach Boys' late drummer, who is played by "The Dark Knight" actor Aaron Eckhart. Principal photography is set to begin on June 15, to coincide with the 50th Anniversary of The Beach Boys, according to the movie's studio, Unclaimed Freight Productions.