Entertainment News: steven spielberg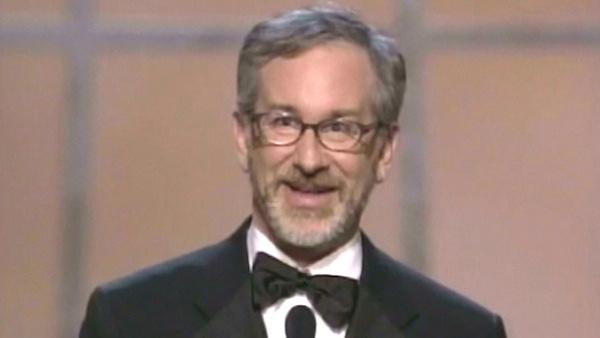 01/30/2012
Throughout this Oscar season, we are looking back at some of the great moments in the history of the awards. At the 71st Oscars in 1999, Steven Spielberg won the Oscar for Best Director for his war drama "Saving Private Ryan," which he said was an "extraordinary moment" in his life.
The film is a recreation of World War II's D-day invasion, and what resulted immediately afterward. Tom Hanks starred in the film as Captain John Miller, who leads his squad on a mission to bring home Private James Ryan, who is played by Matt Damon.
More steven spielberg
01/09/2012
Prince William and Kate attend the UK premiere of Steven Spielberg's film 'War Horse' on Jan. 8, 2012.
01/09/2012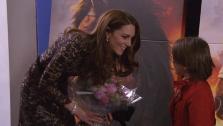 Kate Middleton, known formally as Catherine, Duchess of Cambridge, and husband Prince William made a surprise appearance on the red carpet at the UK premiere of Steven Spielberg's film "War Horse" at the Odeon cinema in London on Sunday, January 8.
The event took place a day before the 30th birthday of the duchess. Kate, who has become a fashion icon, wore a black lace Alice by Temperley gown with a plunging neckline.
12/26/2011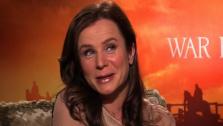 Emily Watson did not appear to need much convincing to accept her role as a tough matriarch in the new film "War Horse," which depicts a connection between a boy and his horse that she compares to that of "star-crossed lovers."
"It's Steven Spielberg," she joked to OnTheRedCarpet.com about the movie's director, adding that she would play a "meek mouse" if he asked.
12/24/2011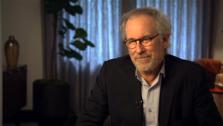 Steven Spielberg made another epic war film with "War Horse" however, the director said one of the most important things for him while filming was making sure the horses on set were safe.
The war drama film, based on the children's novel and drama play by the same name, tells the story of Joey, a beloved horse of a young Albert Narracott (Jeremy Irvine) that is sold to the British cavalry and shipped to France during World War I.
12/09/2011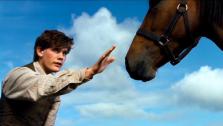 Jeremy Irvine stars in Steven Spielberg's 'War Horse,' which hits theaters on Dec. 25, 2011.
07/22/2011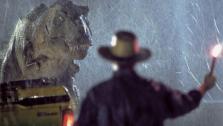 Steven Spielberg gave "Jurassic Park" fans hope that the franchise has not gone extinct at San Diego Comic-Con on Friday, telling crowds that the sequel might be only a few years away.
Spielberg told the audience that he has a story and a screenwriter for the next installment of his blockbuster franchise about prehistoric reptiles brought into modern times through cloning.
06/11/2011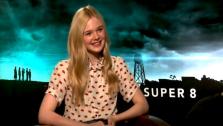 Elle Fanning has had a busy year, and says starring in J.J. Abrams' new film, "Super 8" was like starring in two films simultaneously since there is a movie within the movie.
The movie takes place in a small town in Ohio in 1979. A group of youngsters witness a train crash while making a zombie movie on their Super 8 camera. Following the crash, disappearances and other strange events begin to take place in town.
06/11/2011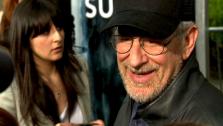 Steven Spielberg returned to his roots producing J.J. Abrams' "Super 8," which is the type of film the legendary director experimented with when he first began making movies.
"I made war movies, I made science fiction movies, I played a dentist and I pulled the teeth out of all three of my sister's mouths - things like that," Spielberg told OnTheRedCarpet.com and other news outlets at the film's Hollywood premiere.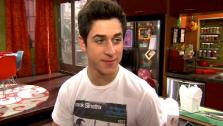 This episode of "On The Red Carpet" was filmed at the L.A. County Museum of Art, where they're featuring a spectacularly strange exhibit from fantastical filmmaker Tim Burton.
In this episode, Steven Spielberg shares the Sci-Fi secrets of 'Super 8', 'Judy Moody' gears up for the best summer of her life, and the 'Pretty Little Liars' dish on a new season of secrets and lies!
06/09/2011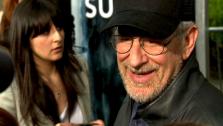 Steven Spielberg talks about his earliest film-making experiences at the premiere of his new film 'Super 8.'
02/27/2011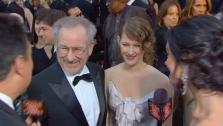 OTRC chats with Oscar-winning director, Steven Spielberg about being a presenter.
Sign up Stay Informed
Entertainment News