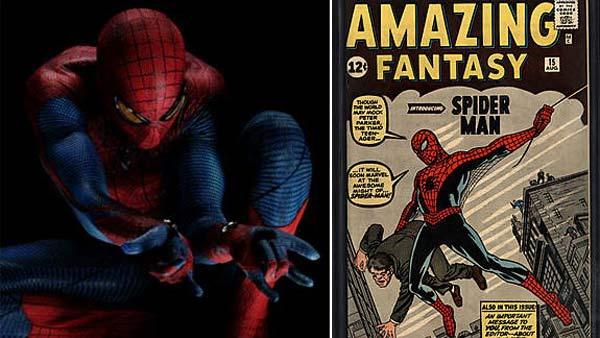 'Spider-Man' debut comic sold for $1.1 million
03/10/2011 by Corinne Heller
A near-mint copy of a comic book that features the debut of Spider-Man has sold for $1.1 million.
The publication, "Amazing Fantasy No. 15," was published in 1962 and was originally sold for 12 cents. A private seller sold it to a private buyer on Monday, March 7, the Associated Press reported.
<p. The comic book's cover was drawn by Jack Kirby and Steve Ditko and shows Spider-Man clutching a villain and swinging from his web.
Previous older comic books, which were also valued at under a dollar when they were first printed, have sold for such large sums in the past. A 1938 copy of "Action Comics" No. 1, which featured the debut of Superman, sold for $1.5 million in March 2010, becoming the most expensive comic book. It originally sold for 10 cents.
In February 2010, a 1939 copy of "Detective Comics" No. 27, which introduced the superhero Batman, sold for $1,075,500.
New films about Spider-Man, Batman and Super-Man are currently in the works.
"The Social Network" star Andrew Garfield plays Spider-Man alongside Emma Stone, Denis Leary and Rhys Ifans in "The Amazing Spider-Man," which is set for release on July 3, 2012. Tobey Maguire played Spider-Man in a previous film trilogy. The franchise was also made into a Broadway musical.
Christian Bale is set to reprise his role as Batman in Christopher Nolan's third film about the superhero, "The Dark Knight Rises," which also stars Anne Hathaway as Catwoman and is due for release on July 20, 2012. Bale has said this will be his final Batman movie.
Zack Snyder is helmed a new Superman film project, starring "The Tudors" actor Henry Cavill as the title character and Diane Lane as his adoptive human mother. The movie is set to hit theaters in December 2010.
(Copyright ©2014 OnTheRedCarpet.com. All Rights Reserved.)