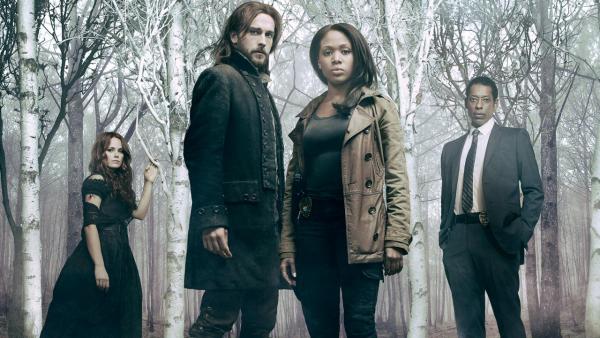 'Sleepy Hollow' - 13 Best TV Shows of 2013 (Spoilers)
12/20/2013 by Kristina Lopez
(Part of OTRC.com's list of the 13 Best TV Shows of 2013)
9. "Sleepy Hollow": The show is a retelling of the short story "The Legend of Sleepy Hollow" with a bit of an "X-Files" twist and supernatural and biblical elements. It stars Nicole Beharie, Tom Mison, Orlando Jones, Katia Winter, John Cho and Nicholas Gonzalez.
Why we love it: Fans of the show most likely coined the super couple nickname "Ichabbie" for the two lead characters even before the pilot finished airing on the west coast. The chemistry between Lt. Abbie Mills and Ichabod Crane (played by Beharie and Mison) is palpable and really keeps the viewers grounded to the show when it gets just a little too out there.
Spoiler alert! The characters' chemistry is platonic for now, in part because Ichabod is still hung up on his wife, Katrina, who is stuck in purgatory (it's a long story). However, there is definite romantic tension between Ichabod and Abbie. Romance aside, their friendship grew so believably strong and so quickly that it provided for some touching moments between the two whenever it seemed like one of them was going to die.
Also, there's just something about the way Ichabod says "lieutenant" that makes us wonder how Abbie isn't weak in the knees. It's probably because she's too busy handling all the weird things happening in Sleepy Hollow like a boss.
There are some great comedic elements too, especially when Colonia America-era Ichabod tries to live in a digital world. His rant about the 10 percent sales tax on donut holes and the time he called an umpire "basket face" at a baseball game are some highlights.
"Sleepy Hollow" has also teased out a lucid idea about who is the big baddie (it's not the headless horseman) and Abbie and Ichabod's purpose in the show's mythology as the two witnesses to the apocalypse (a reference to the Book of Revelation) with a clarity that some seasons of "LOST" could have used.
We can hardly wait for the remaining episodes see what Moloch's (the real demon bad guy) threat of Abbie's soul really meant.
When does "Sleepy Hollow" return? The remaining episodes of the debut season of the show will begin airing on Jan. 13, 2014. The FOX announced in October that the show was renewed for a second 13-episode season.
Click here to find out who is No. 8 on OTRC.com's list of the 13 Best TV Shows of 2013.
(Copyright ©2014 OnTheRedCarpet.com. All Rights Reserved.)
Sign up Stay Informed
Entertainment News