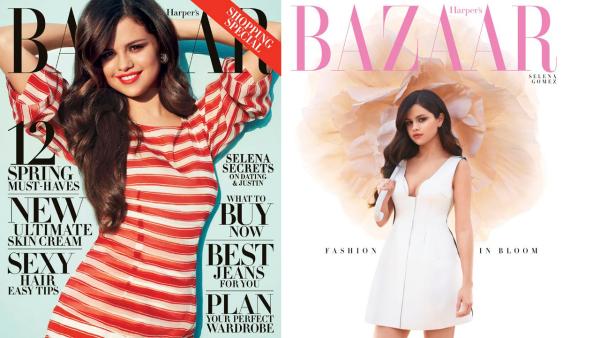 Selena Gomez talks Hooters family tradition, Justin Bieber, Beyonce & Jay-Z
03/07/2013 by Kristina Lopez
Selena Gomes opened up in a recent interview about an unusual family tradition she used to have with her father that included the former Disney star going to Hooters. The actress and singer also talked about ex-boyfriend Justin Bieber, Beyonce and Jay-Z. Gomez, 20, is the cover girl for the April 2013 issue of
Harper's Bazaar
, which goes on sale on March 19, and actually appears on two alternate covers for the issue that were shot by Terry Richardson. The actress was interviewed at a Hooters and reminisced about a time when she used to visit the restaurant chain with her father in Texas. "When I was seven, my dad would go to Hooters to watch Spurs games. But he started noticing that when I would come, with my little pigtails, all the waitresses would be like, 'Hey!' So he ended up half spending time with me but with all those cute girls coming over." She said. "And that kind of became our thing." The actress adds that she hasn't donned the infamous Hooters white T-shirt "yet." Gomez's parents divorced when she was 5 years old but in a 2009 interview with
People magazine
, she said she flew out once a month to visit her father in Texas. The young starlet also talked about the media attention she received while dating pop star Justin Bieber. Their relationship lasted nearly two years and while there have been rumors the two have reconciled a few times since
splitting in November 2012
, Gomez appears to be single. "To me, love is normal. Of course, you see Jay and Beyonce and you're like, 'Oh, my gosh, they're perfect for each other,' but at the end of the day their love is just like everybody else's love," she said. "They have problems, I'm sure, and they solve them, like anybody else." "So to make it as normal as possible -- in such an abnormal lifestyle -- was super important to both of us. Which was great ..." Gomez added about her relationship with Bieber before the magazine notes she trailed off. "That's how it should be." The actress admitted she does not get "asked out a lot" but seemed optimistic about finding love. "I believe in love -- yes, I'm one of those girls," she told Harper's Bazaar. "Most of my friends believe in love. I went out with Katy Perry last night. She's so fun and awesome, but it's cool to see someone older believe in love too. She is all about it, and that's how I will always be. I believe in stories like, 'Oh, I met him in Starbucks.'" Gomez has a big year ahead of her with a new album, a world tour and the upcoming release of the film "Spring Breakers." The film was directed by Harmony Korine, who wrote the screenplay to the controversial film "Kids." In the R-rated movie, Gomez co-stars with former Disney star Vanessa Hudgens, "Pretty Little Liars" actress Ashley Benson, Rachel Korine and James Franco. The women play a group of college students who get into more than just your typical spring break hijinks. They are sent to jail after a botched attempt to rob a restaurant to try to get some cash in order to fund their school vacation. Franco, who also sports cornrows and a dollar sign tattoo on his neck, plays Alien (pronounced A-leen), a drug and weapons dealer. He bails the group out and takes them on a spring break they will probably never forget. "It was really, really fun,"
Gomez told OTRC.com in an April 2012 interview
. "It's an independent movie and it's a little bit smaller but it's a very different role than anything I've done before. James Franco plays this character who's more of like kind of, not the villain, necessarily, but he's the one that kind of gets us into a little bit of a mess and he's just really great to work with. And Vanessa's been amazing. It was a great, great shoot." "Spring Breakers" is rated R for strong sexual content, language, nudity and drug use. "It's fun to do something that's not necessarily for my fans," Gomez told Harper's Bazaar about the film. "And Harmony really believed in me." "Spring Breakers" is set for limited release in New York and Los Angeles on March 15 and will hit theaters nationwide on March 22. Check out the trailer below.
(Copyright ©2014 OnTheRedCarpet.com. All Rights Reserved.)
Sign up Stay Informed
Entertainment News