Entertainment News: sarah silverman
02/11/2013
Israeli police recently detained comedienne Sarah Silverman's sister, a reform rabbi named Susan Silverman, in Jerusalem after she and a group of women tried to pray at the Western Wall - the holiest site in Judaism, frequented mostly by ultra-Orthodox men.
Silverman, known for her explicit comedy, voiced her support for her sister, who is one of three and the only one living in the Jewish state, on Twitter, saying: "SO proud of my amazing sister @rabbisusan & niece@purplelettuce95 for their b----sout civil disobedience. Ur the [expletive]! #womenofthewall"
More sarah silverman
01/25/2013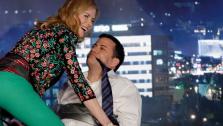 Matt Damon hijacked 'Jimmy Kimmel Live' on Jan. 24, 2013. Stars such as Demi Moore, Reese Witherspoon, Ben Affleck, Andy Garcia, Amy Adams, Jimmy Kimmel's ex Sarah Silverman and a very naughty Nicole Kidman and Robin Williams joined the fun. See photos.
04/16/2012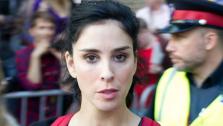 Sarah Silverman recently had an abortion ... of a burrito.
The 41-year-old comedinne, who has no children and is known for her no-holds-barred jokes on and off stage, Tweeted a photo of her with a swollen belly, standing in front of boyfriend and "Family Guy" writer Alec Sulkin, who is holding a smartphone.