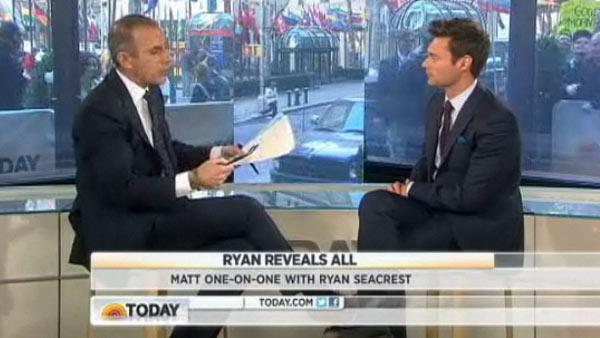 Ryan Seacrest, Matt Lauer discuss NBC's 'Today' show, 'American Idol,' Olympics (Video)
04/04/2012 by Corinne Heller
Ryan Seacrest is not replacing Matt Lauer on NBC's "Today" show anytime soon, despite recent rumors, but the "American Idol" and E! News host says he will cover the 2012 Summer Olympics for the network. Seacrest, 37, made the announcement on the "Today" show on Wednesday, April 4, during a sit-down interview with Lauer, 54, who has co-hosted the NBC morning series since 1997. His contract is set to expire in December and it was
reported last year that Seacrest had met with show officials
about possibly taking over his job. "What kind of conversations have you had with NBC about joining the 'Today' show?" Lauer asked Seacrest on Wednesday. "Oh, they didn't tell you?" Seacrest joked, adding: "I've worked with the E! network for years and NBC Universal and E! are the same family and so the plan is for me to join the NBC family and continue to have a role at the E! network. The first assignment will be to join the primetime team for the Olympics on NBC." Comcast owns both NBC and the cable channel E!, where Seacrest serves as a host and red carpet correspondent. The TV personality, who has hosted "American Idol" since its 2002 debut, is one of the most sought-after people in the entertainment business. He also has his own syndicated radio show and produces Kim Kardashian's family's popular E! reality shows. "You didn't answer the question. So the question was, what kind of conversations have you had with NBC officials about joining this program," Lauer asked Seacrest on Wednesday, adding: "And I want names and dates." "Conversations with four people to your right who are on the floor," Seacrest joked. "But they are mostly about filling in to do weather." "So Al [Roker] should be doing this interview," Lauer replied, adding: "Do you see yourself doing a job like this?" "I don't know," Seacrest said. "I see you doing this for as long as you want to do. Maybe the question is how long will you be on the 'Today' show? Because fans, and myself included, think you should be here for years to come." The "Today" show has seen several casting changes. Katie Couric left the show in 2006 after co-hosting it for 15 years to become an evening news anchor on CBS. She joined ABC last year and on Monday began a
week-long co-hosting stint on the network's daytime series "Good Morning America,"
the "Today" show's rival program. She is set to host her own talk show in September.
Meredith Vieira left the "Today" show in 2011 after five years
. Ann Curry took over for her, while Vieira returned to the series for a surprise guest appearance on Monday. Lauer said he thought Seacrest would "be great" as a "Today" show host, adding that the two are "friendly" and have joked about the casting reports. "There is no tension here," Lauer added. He also asked Seacrest about his future with "American Idol," which is on its 11th season. He reportedly
earns at least $15 million per year for his hosting job
. "I plan to stay there," Seacrest said. "I think I'll have an official announcement very, very soon. But I expect to be on that show. It's a great, great program. It's a circus to run and I enjoy it."
(Copyright ©2014 OnTheRedCarpet.com. All Rights Reserved.)
Sign up Stay Informed
Entertainment News