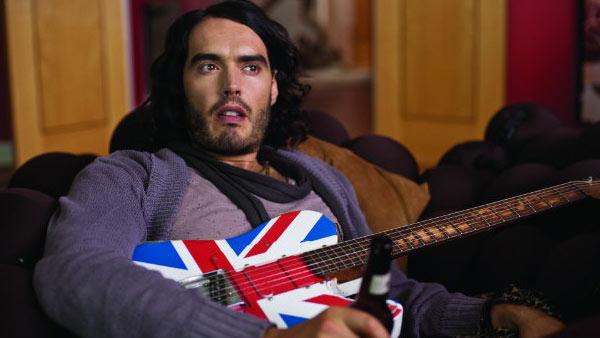 Russell Brand deported from Japan, wife Katy Perry reveals on Twitter
05/22/2011 by Kristina Lopez
Funny man Russell Brand was reportedly deported from Japan on Saturday, according to Tweets from his wife, singer Katy Perry.
"So...my husband just got deported from Japan," the 26-year-old Perry ," wrote in a Tweet on Sunday. "I am so. sad. I brought him all this way to show him my favorite place."
She added that Brand was deported because of "priors from over 10 years ago!"
Perry was in Japan for a few concerts as part of her "California Dreams" world tour. Japanese immigration officials are not commenting on Brand's deportation.
Brand, 35, and Perry got married on October 23, 2010 in a traditional Hindu ceremony in Rajasthan, India, where Brand also proposed to the singer. The two began dating in September 2009 after the singer performed on the MTV Video Music Awards that were hosted by Brand.
In a 2006 profile of the "Get Him to the Greek" star in the Guardian, it notes that the comedian has been arrested 11 times, however, it is never specified what he was arrested for. Brand is a recovering heroin addict and alcoholic.
In 2010 he was arrested on battery charges after allegedly attacking a photographer who blocked Perry from catching a flight in Los Angeles. However, the charges were later dropped by Los Angeles prosecutors.
Brand seemed to take the deportation with a light-hearted attitude. He joked in one Tweet, "Planning escape from Japanese custody. It's bloody hard to dig a tunnel with a chopstick."
He later said, "Stockholm syndrome kicking in. Just asked my guard out for (vegetarian) sushi. He giggled."
His most recent Tweet reads, "Alcatraz! Shawshank Redemption! And now this! Ah, sweet blue bird of freedom!"
Perry also seems to be taking the deportation in stride. "But of COURSE I <3 my Japanese fans & the show #MUSTGOON no matter the daily aftershocks or husband kidnappings," she Tweeted Sunday.
(Copyright ©2014 OnTheRedCarpet.com. All Rights Reserved.)
Sign up Stay Informed
Entertainment News