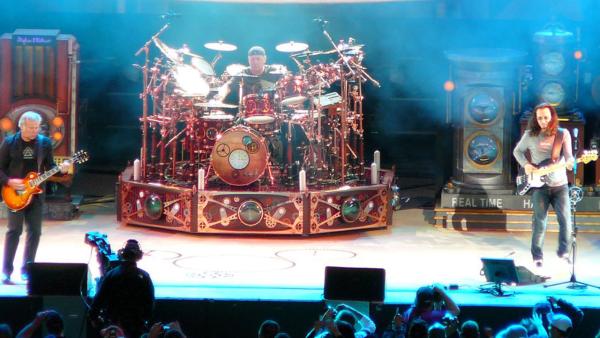 Rush, Donna Summer, Public Enemy among 15 Rock Hall of Fame nominees
10/04/2012 by Corinne Heller
Canadian progressive rock trio Rush has finally been nominated for possible induction into the Rock and Roll Hall of Fame after years of being snubbed.
The organization released its annual list of nominees on Thursday and will announce the winners in several weeks. Aside from Rush, the nominees for the 2013 ceremony include Public Enemy - the group that made Flavor Flav famous, iconic metal group Deep Purple - known best for the song "Smoke on the Water," rock bands Heart and Joan Jett and the Blackhearts and "Queen of Disco" Donna Summer.
All three were also nominated last year. Summer also received a nod in 2010. The singer died in May. The other nominees this year are Albert King, N.W.A, Procol Harum, Randy Newman, Kraftwerk, The Paul Butterfield Blues Band, The Meters, The Marvelettes and Chic.
Rush, headed by singer Geddy Lee, formed in the late 1960s and has released commercial hits such as "Tom Sawyer," "The Spirit of the Radio," "Limelight," "New World Man" and "Closer to the Heart." Rush is known not only for its unique sound but for its eclectic stage props - working appliances such as dryers, fridges and even rotisserie chicken ovens have been placed on stage instead of bass amps.
"We are honored to be among the nominees for this year's Rock 'N Roll Hall of Fame," Lee and fellow band members Alex Lifeson and Neil Pearl said in a statement posted on Rush's website. "We are especially thrilled for the many, many dedicated RUSH fans to whom this nomination is so very important."
For years, fans have called on the Rock Hall to induct Rush, a group admired by musicians such as Nine Inch Nails singer Trent Reznor and Smashing Pumpkins frontman Billy Corgan, who Tweeted on Thursday, response to the group's nomination: "AWESOME NEWS!"
"While they have never gotten the critical respect they so richly deserve, Neil Peart has inspired more young drummers to take up the instrument than any other drummer of the past 30 years," the Rock Hall's website states. "No less impressive is Geddy Lee's ability to play keyboards and bass in concert while never missing a note of his lead vocals, and guitarist Alex Lifeson is a virtuoso simply without peer."
The group's music has also carried political messages, promoting individualism. The 1976 concept album "2112" was inspired by Objectivist author Ayn Rand and her novella Anthem, which is also the title of one of a Rush song.
Peart, whose drum set is among the largest seen in concerts, opened up about his current political views in an interview with Rolling Stone in June to promote Rush's new album, "Clockwork Angels." He said: "On that 2112 album, again, I was in my early twenties. I was a kid. Now I call myself a bleeding heart libertarian."
Actors Jason Segel and Paul Rudd famously paid tribute to the band in the Judd Apatow movies "Knocked Up" and "I Love You, Man." The two actors starred in a Funny Or Die video with the band (watch it here). Segel also channelled Peart in a drum sequence on an episode of Apatow's 1999 series "Freaks and Geeks."
Rush earned the group a star on the Hollywood Walk of Fame in June 2010. Fellow Rock Hall nominee Heart, which is known for songs such as "Alone" and "What About Love" and is headed by Ann Wilson and her sister Nancy Wilson, received the same honor on September 25.
More than 700 artists and groups have been inducted into the Rock Hall since it was established in 1983. According to the organization, music performers become eligible for induction 25 years after the release of their first record and nominees are voted upon by more than 600 artists, historians and members of the industry. Inductees must receive more than 50 percent of the vote.
The Rock Hall announced that this year, for the first time, fans can participate in the induction process and can vote for five nominees until December 3. As of Thursday afternoon, Rush leads with 27 percent of the vote, with Deep Purple following with 16 percent and Heart with 13 percent. (You can vote here)
"The top five artists, as selected by the public, will comprise a 'fans' ballot' that will be tallied along with the other ballots to choose the 2013 inductees," the Rock Hall says.
Rock Hall inductees are typically announced in December and are honored at an induction ceremony the following spring. Earlier this April, groups such as Guns N' Roses<, the Red Hot Chili Peppers and the Beastie Boys were inducted.
(Copyright ©2014 OnTheRedCarpet.com. All Rights Reserved.)
Sign up Stay Informed
Entertainment News