Entertainment News: rosario dawson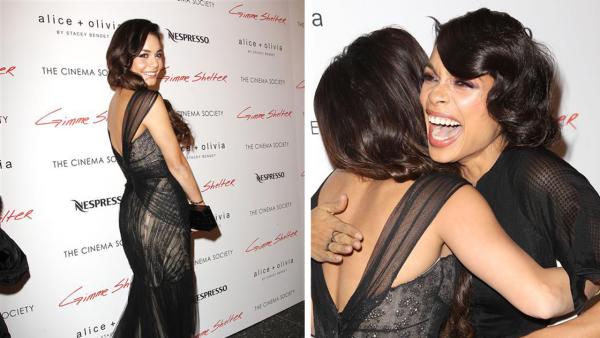 01/23/2014
Vanessa Hudgens wore a sexy, black gown to a screening for "Gimme Shelter" at the Museum of Modern Art in New York on Jan. 22, 2014. Check out photos of her as well as pictures of co-stars Rosario Dawson and Brendan Fraser.
More rosario dawson
05/20/2013
Celebrities took to the red carpet at several film screenings at the 2013 Cannes Film Festival on Sunday and Monday wearing white gowns that featured a little variety with sequins, feathers, and pops of color.
Rosario Dawson arrived at the screening of "Shield of Straw" on Monday, May 20, in a sleeveless, white Elie Saab sequined gown. The dress also featured a thigh-high slit.
09/08/2012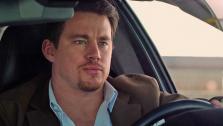 Channing Tatum and Rosario Dawson star in '10 Years,' which hits theaters on September 14, 2012.
08/05/2012
Rosario Dawson reportedly has a new man in her life.
The "Sin City" actress was seen getting cozy with English director Danny Boyle, according to E! News, which has a photo of the two kissing in Brighton, U.K.
07/25/2011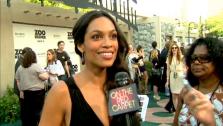 Rosario Dawson showcases a slim frame in a white, long-sleeved bikini top and white bottoms on the cover of Shape magazine's August 2011 issue and says that society's views regarding women's bodies is a form of violence.
The 32-year-old actress has been touted for her sexy moves and fit body in films such as "Sin City" and "Rent," made her comments in a video interview posted on the magazine's website, which also includes footage of her posing in several bikinis.
07/09/2011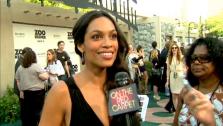 Rosario Dawson tends to take on dramatic roles, but the actress got to get a bit silly in "Zookeeper" and told OnTheRedCarpet.com that her grandmother had something in common with her monkey co-star.
"I did not get hit by a monkey on set, but a lot of people did get hit by a monkey on set, including my grandmother, which was pretty funny," Dawson told OnTheRedCarpet.com co-host Chris Balish at the film's premiere on Jul 6. "I have the best picture of her with Crystal the Monkey, sitting on her and smiling really hard and my grandmother doing the exact same smile, which is wonderful. I really loved that. It actually reminded me of my grandmother because she was super sweet and really, really cute but packed a wallop on her, man. You would never expect it!"
07/09/2011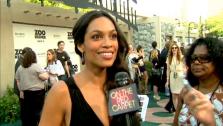 Rosario Dawson talks about bonding with monkeys and eagles at the Los Angeles premiere of 'Zookeeper.'
Sign up Stay Informed
Entertainment News