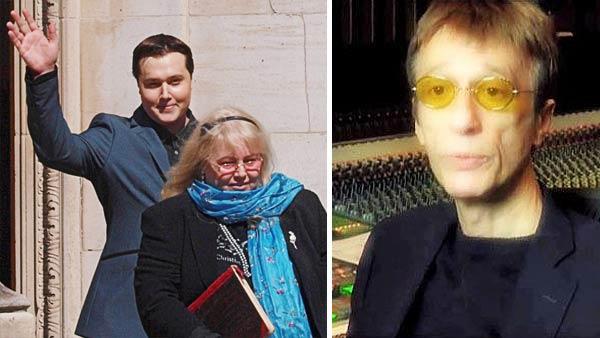 Robin Gibb out of coma, almost died, now wants ice cream
04/23/2012 by Corinne Heller
Robin Gibb's son RJ said doctors estimated the Bee Gees singer had a 10 percent chance to live after he slipped into a coma while battling pneumonia and cancer and that his family was told to "make plans because he's in God's hands." He and his mother Dwina, the 62-year-old's second wife, told the UK outlet
ITV News
in a video interview posted on Monday, April 23, that he is now speaking and even asking for ice cream after having "beaten the odds." Following weeks of speculation due to his frail appearance and a series of other ailments, Robin Gibb was hospitalized in mid-April. His doctor said in a statement over the weekend that the singer had
woken up from a coma
and is being treated for advanced colorectal cancer. He had
had caught pneumonia
as his immune system was weakened from grueling doses of chemotherapy and two operations. "They said they'd thrown the kitchen sink at him, that it was time to, you know, make plans because he's in God's hands and such," RJ Gibb said. "But he beat the odds again. They gave him a 10 percent ... under 10 percent survival chance and he's beaten the odds. He really is something else." The singer's doctor said in his statement he was conscious, able to speak, is using an oxygen mask to breathe and requires intravenous feeding and antibiotics. "He's fantastic at the moment," Dwina Gibb said. "He's laughing, he's joking, he's really happy. He just wants to get out [of the hospital]. He's been very naughty because he pulled the feeding tube out so they're got to put it back in again. But he wants ice cream, he wants all kinds of things." Gibb has been in and out of the hospital since October 2011. He has
sparked concern about his health due to his frail appearance
. In early February,
he said doctors had removed a growth in his colon and that he felt "fantastic." He did not mention his cancer.
Dwina Gibb told ITV News that she and her son played him music by his bedside during his recent hospitalization. He woke up after hearing a track from his and his son's new classical album, "The Titanic Requiem." "We played music to him for about 10 days," she said. "So we asked him if he wanted to listen to any more music and he said, 'No.' But I think we've bombarded him with music for about 10 days." "The first thing he said to me was, 'Hi, RJ, can you tell them my back hurts?'" RJ Gibb said. "So we got a nurse to turn him and we just said we loved each other."
(Copyright ©2014 OnTheRedCarpet.com. All Rights Reserved.)
Sign up Stay Informed
Entertainment News