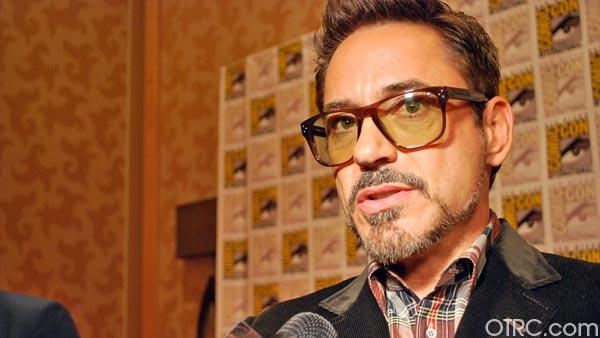 Robert Downey Jr. injures ankle while filming 'Iron Man 3'
08/16/2012 by Nichole Hamilton
Robert Downey Jr. injured his ankle while working on the third installment of the highly popular "Iron Man" franchise. "Robert Downey Jr. sustained an ankle injury on the set of 'Iron Man 3' in Wilmington, North Carolina while performing a stunt," a Walt Disney Studios spokesperson said in a statement to OnTheRedCarpet.com on Thursday. "There will be a short delay in the production schedule while he recuperates." Downey Jr. is known for playing the cocky billionaire playboy Tony Stark in the superhero films, which are based on the Marvel comic book series. Helmed by Jon Favreau, the first two films were a commercial success and led to the character
being an integral part of the 2012 blockbuster "The Avengers."
Downey Jr. was in attendance at the 2012 San Diego Comic-Con Iron Man panel on July 14 and made an entrance by dancing through the aisles of 6,000 fans to "All My Love" by Luther Vandross.
The video can be seen here
. He was joined at the panel by Marvel Studios' President of Production Kevin Feige. Prior to Downey Jr.'s injury, it was announed that "Iron Man 3" is due out on May 3, 2013. At the Comic-Con panel, a clip of Stark's latest Iron Man suit and new cast member Sir Ben Kingsley as the villain Mandarin was shown. The third film will also feature newcomers Guy Pearce and Rebecca Hall, along with the return of Gwyneth Paltrow as Stark's assistant / love interest Pepper Potts, Don Cheadle as James Rhodes and Favreau as Happy Hogan. Favreau previously directed the first two "Iron Man" movies, but stepped back and served as an executive producer on the latest installment. The new film will be directed by Shane Black, who previously directed "Kiss Kiss Bang Bang," which starred Downey Jr.
(Copyright ©2014 OnTheRedCarpet.com. All Rights Reserved.)
Sign up Stay Informed
Entertainment News