Entertainment News: robert de niro
02/05/2013
Robert De Niro became emotional during a interview on "Katie" while discussing bipolar disorder with "Silver Lining Playbook" director David O. Russell on Monday, February 4.
Russell's son has bipolar disorder and has a cameo in the film, which is about a man (played by Bradley Cooper) struggling to deal with his bipolar disorder after being released from a mental health facility.
More robert de niro
08/10/2012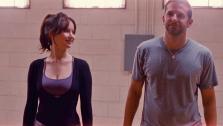 Jennifer Lawrence and Bradley Cooper star in 'Silver Linings Playbook,' which hits theaters on November 21, 2012.
08/04/2012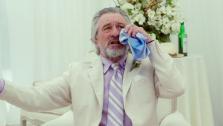 Robert De Niro and Diane Keaton star in 'The Big Wedding,' which hits theaters on October 26, 2012.
06/08/2012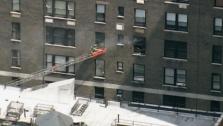 A fire broke out on Friday in a multi-million New York apartment owned by Robert De Niro, who was not home at the time.
The blaze started on the fourth floor of the 12-story posh Brentmore building, located in New York's Upper West Side, around 2 p.m. and firefighters put out the flames in less than an hour, a fire department official told The New York Times, adding that residents were not injured.
06/08/2012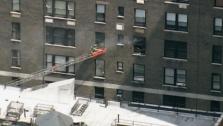 June 8, 2012 - Fire breaks out in NYC apartment owned by Robert De Niro. He wasn't home, residents were unharmed.
03/20/2012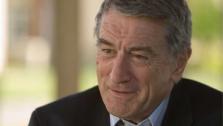 Robert De Niro joked that America isn't "ready for a white first lady" at a fundraiser for President Obama, which got presidential candidate Newt Gingrich up in arms.
De Niro and his wife Grace Hightower hosted the fundraiser on Monday night in New York City and the actor asked the crowd, "Callista Gingrich. Karen Santorum. Ann Romney... Now do you really think our country is ready for a white first lady?" Following the applause, De Niro joked, "Too soon, right?"
11/07/2011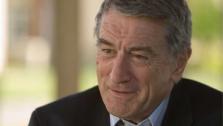 Robert De Niro has signed on to portray disgraced financier Bernard Madoff in a film for HBO, the network confirmed to OnTheRedCarpet.com on Monday.
The film, which is currently in development, is based in part on a book by New York Times senior financial writer Diana B. Henriques, entitled "The Wizard of Lies: Bernie Madoff and the Death of Trust."
04/25/2011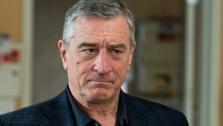 Robert De Niro spoke out this weekend at the Tribeca Film Festival in New York about the state of politics and in particular, Donald Trump's recent accusations about President Barack Obama, reports E! Online.
Earlier in the month, Trump told Fox News host Bill O'Reilly that he believes Obama should release his birth certificate to prove that he was born in the country. The 67-year-old actor compared the mogul to a car salesman and called the "Celebrity Apprentice" star's accusations "a lot of nonsense." Trump responded on Monday, saying the actor is "not the brightest bulb on the planet."
03/20/2011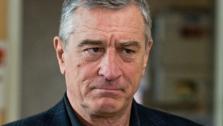 Jane Fonda, Kevin Spacey, Kirstie Alley, David Lynch all Tweet, but Robert De Niro says he won't be on the social networking site any time soon.
"I don't Twitter or any of that stuff, which is fine. I don't have a fan club that I talk to or whatever," De Niro tells Parade Magazine in a recent interview. "My young relatives are into everything, so they show me. I use the computer, but Twitter's not something that I'm into. I think it's great, and it's not that I don't understand it, but in a way, I don't get it and that's OK."
03/17/2011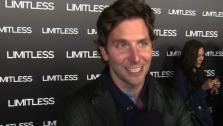 Bradley Cooper is the star of this week's psychological thriller, "Limitless," but it wasn't so long ago that he was in the audience of "Inside the Actors Studio," asking his co-star Robert De Niro questions.
On Monday's "Inside the Actors Studio" host James Lipton played a video of Cooper's first interaction with De Niro which brought the "Hangover" actor to tears, in the clip, Cooper asked De Niro about what inspired his "Awakenings" character and the screen legend essentially brushed him off.
01/02/2011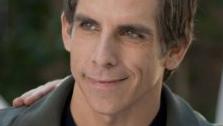 Robert De Niro and Ben Stiller's "Little Fockers" stayed at the top of the weekend box office with $26.3 million.
"True Grit," starring Jeff Bridges and Matt Damon, came in second for the second weekend in a row with $24.5 milllion, raising its box office total to $86.8 million and making it the top-grossing film for directors Joel and Ethan Coen. Their previous best film was ""No Country for Old Men," which earned $74.3 million.
12/18/2010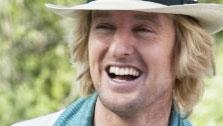 Owen Wilson has costarred with some major Hollywood stars including Gwyneth Paltrow, Jennifer Anniston and Eddie Murphy, but when it came time to meet Robert De Niro while shooting "Meet the Parents", the actors says he was left speechless.