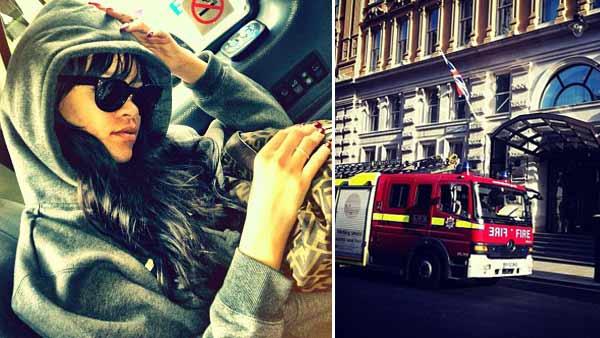 Rihanna escapes fire at London hotel
06/27/2012 by Olivia Allin
Rihanna was evacuated from her hotel in London early on Wednesday morning, after a fire broke out. The 24-year-old pop star was among approximately 300 guests who were forced to leave the Corinthia Hotel in London's Whitehall Place neighborhood around 6:22 a.m. local time, after a fire started in an elevator shaft. Rihanna took to Twitter to tell fans of the ordeal and
posted photo of the firetruck
in front of the hotel, with the caption, "Fire in the Telly #evacuationlife." She also told fans that she has been "roamin da streets since 6am" and
posted a photo of herself
wearing sunglasses and a gray hoodie in the back of a cab. The London Fire Brigade assured worried fans, including Russell Simmons,
on Twitter
that "no one was injured" in the "very small fire." It was announced on June 20 that Rihanna and "The Big Bang Theory" star Jim Parsons would be teaming up to voice characters in the
new Dreamworks animated film, "Happy Smekday!"
which is set for release in late 2014. This is the first big-screen animated role for Rihanna, who
made her acting debut with the sci-fi-action film "Battleship,"
which was released in May. She is also filming the comedy movie "The End of the World," which stars the likes of James Franco, Emma Watson and Jason Segel and is set to hit theaters in 2013.
(Copyright ©2014 OnTheRedCarpet.com. All Rights Reserved.)
Sign up Stay Informed
Entertainment News