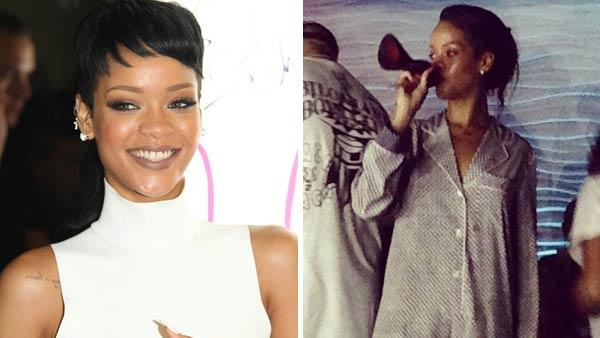 Rihanna drinks out of shoe, ties record with Elvis Presley (Video)
11/07/2013 by Joseph Apodaca
Rihanna certainly knows how to celebrate! The "Diamonds" singer was spotted in Barbados earlier this week at the Sugar Ultra Lounge dancing and drinking out of, what appears to be, a Christian Louboutin high-heeled shoe. A video of Rihanna drinking out of the shoe was captured by
Instagram user Damien Piron
and can be viewed below. In more
photos posted by Piron
, Rihanna can be seen wearing a long-sleeved polka dot romper, white strappy sandal heels and red lipstick. Rihanna, who,
according to her Twitter account
, was in Barbados to celebrate her grandfather's 85th birthday, is also celebrating her latest career feat, tying Elvis Presley on the
Billboard Hot 100
with 25 top 10 hits. The accomplishment comes courtesy of the singer's recent collaboration with rapper Eminem on the song "The Monster," which debuted at No. 3 this week on the chart. Rihanna tweeted about the news, thanking her more than 32 million Twitter fans,
saying
, "Navy thank you for pushing me and allowing me to keep breaking records and making histoRIH along with the greats! Jah just keeps blessing us." "The Monster" is also Rihanna's 45th song to enter the Billboard 100 since her career began in 2005. She ties with Mariah Carey for 45 songs on the chart a piece. Check out a video of Rihanna drinking out of a high-heel shoe on Instagram below.
(Copyright ©2014 OnTheRedCarpet.com. All Rights Reserved.)
Sign up Stay Informed
Entertainment News