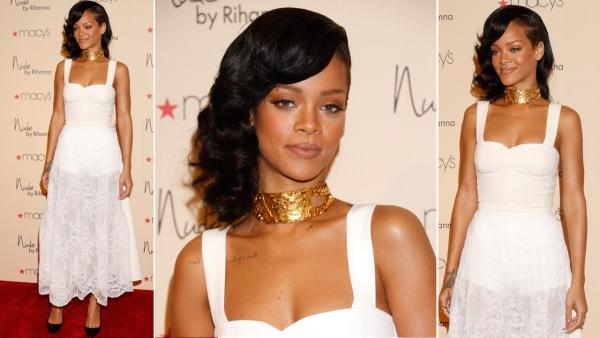 Rihanna dons lacy, floor-length gown at Macy's perfume launch (Photos, Poll)
12/02/2012 by Nichole Hamilton
Rihanna turned heads in a lacy Nini Nguyen gown at the launch of her new fragrance. The "Unapologetic" singer, 24, donned a floor-length Nini Nguyen gown which she paired with a chunky, gold Christian Lacroix choker for the launch of her third fragrance, Nude by Rihanna. The singer showcased natural make-up, wavy curls and completed her look with black Tom Ford pumps (Photo above). The singer debuted the ad for the fragrance in October, posing in a peach bikini top and wrapping herself in peach chiffon (
See photo
). "Here is my new add for a brand new fragrance #NUDE !!! Make sure you smell sexy, especially naked, this fall,"
Rihanna wrote on Twitter on October 5
. The R&B and pop star's manufacturer, Parlux, also offers fragrances endorsed by Paris Hilton, Jessica Simpson and Queen Latifah. Rihanna released her first fragrance, "Reb'l Fleur," in February 2011. Her second fragrance, "Rebelle," was released in December 2011. What do you think of Rihanna's ethereal ensemble? Vote in our poll below.
(Copyright ©2014 OnTheRedCarpet.com. All Rights Reserved.)
Sign up Stay Informed
Entertainment News