Entertainment News: ricky gervais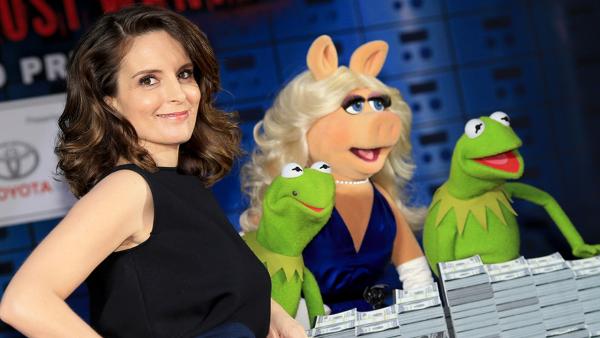 03/12/2014
Check out photos of Kermit, Miss Piggy, Tina Fey, Ricky Gervais and more celebs at the Hollywood premiere of 'Muppets Most Wanted.'
The film, which also stars 'Modern Family' actor Ty Burrell, hits theaters on March 21.
More ricky gervais
04/24/2013
Christina Aguilera appeared at the TIME 100 Gala on Tuesday, April 23, 2013, in a cut-out, black, Victoria Beckham dress.
She was joined on the red carpet by Lena Dunham, Olivia Munn, Claire Danes, Jessica Biel, Justin Timberlake, Mia Farrow, Barbara Walters, Marissa Mayer, Ricky Gervais, Bryan Cranston, Jimmy Kimmel, Jimmy Fallon, Roma Downey and more. Check out photos.
01/15/2012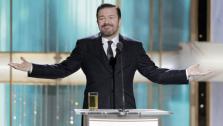 Ricky Gervais is gearing up to host his third Golden Globe Award ceremony on January 15 and has his "targets" in his cross-hairs.
I have specific targets, but targets is a word I wouldn't use [they're] subjects," Gervais told reporters at the Television Critics Association's winter press tour, TV Line reports. "I'm going to do a monologue about the year and then [ding] six or seven people...like I did last year."
11/29/2011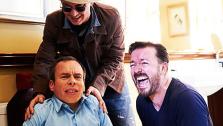 Warwick Davis of "Willow," "Star Wars" and "Harry Potter" fame is coming to U.S. television, thanks in part to Ricky Gervais.
He is the star of a new seven-episode mocumentary series called "Life's Too Short," which premiered in the actors' native UK earlier this month. It is set to debut on HBO in the United States on Feb. 19, 2012 at 10:30 p.m., right after the season 3 premiere of the hit show "Eastbound & Down," according to a statement from the cable network.
01/17/2011
Ricky Gervais is set to make a cameo appearance on the United States version of "The Office" on January 27 says NBC.
Gervais will be reprising the role of David Brent, which he played in the original British version that he helped create, according to The Associated Press.
02/01/2011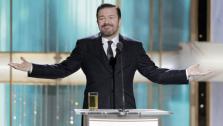 Despite his controversial turn as host of the 2011 Golden Globes that spurred outcry by some of Hollywood's biggest stars, comedian Ricky Gervais claims he's been asked to consider hosting again.
In a new issue of Heat magazine, where Gervais chronicles his Golden Globes experience in a diary, Gervais says that organizers asked him to "consider a third year."
01/17/2011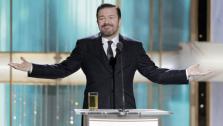 Celebrities, like Robert Downey Jr., weren't the only ones who were offended by some of Ricky Gervais' snarky quips at the Golden Globes on Sunday.
Hollywood Foreign Press Association president Philip Berk tells The Hollywood Reporter that he thinks the comedian "definitely crossed the line."
01/17/2011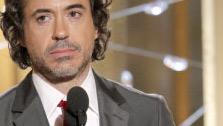 Ricky Gervais didn't hold back in his jokes at the Golden Globes on Sunday. The comedian made wisecracks on everything from Scientology to Robert Downey Jr.
During the show, Gervais introduced Downey Jr. by giving a list of his recent successful film credits before ending with, "But many of you in this room probably know him best from such facilities as the Betty Ford Clinic and Los Angeles County Jail."
Sign up Stay Informed
Entertainment News