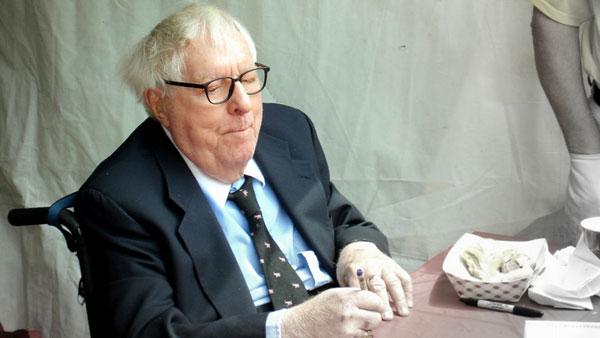 Ray Bradbury, 'Fahrenheit 451' writer, dies at age 91
06/06/2012 by Corinne Heller
Sci-fi and fantasy author Ray Bradbury, author of the 1953 dystopian novel "Fahrenheit 451" and "The Martian Chronicles," has died at age 91.
He passed away on Tuesday, June 5, in Southern California, his daughter told the Associated Press. The writer is survived by four daughters and eight grandchildren. His wife Maggie died in 2003.
Bradbury was born in Waukegan, Illinois, and has been myopic since he was a child, which prevented him from driving a car and serving in the U.S. military during World War II. He published his first collection of short stories, "Dark Carnival," in 1947, the year he and his wife married.
The post-apocalyptic earth-themed "The Martian Chronicles" was released in 1950. "Fahrenheit 451," one of his most famous books, told of a futuristic American society where books are outlawed and was made into a 1966 movie starring Oskar Werner, Julie Christie and Cyril Cusack.
For many Americans, the news of Ray Bradbury's death immediately brought to mind images from his work, imprinted in our minds, often from a young age," U.S. President Barack Obama said in a statement. "His gift for storytelling reshaped our culture and expanded our world."
"But Ray also understood that our imaginations could be used as a tool for better understanding, a vehicle for change, and an expression of our most cherished values," he added. "There is no doubt that Ray will continue to inspire many more generations with his writing, and our thoughts and prayers are with his family and friends."
In 2004, Bradbury accused liberal documentary filmmaker Michael Moore of lifting part of his novel title without permission when making the anti-President George W. Bush movie "Fahrenheit 9/11." Moore's rep said in response to People magazine that "Bradbury's work has been an inspiration to all of us involved in this film. When you watch the film, you will see that title reflects the fact that the movie explores the very real life events before, around and after 9/11."
Bradbury also penned the 1962 fantasy and horror novel "Something Wicked This Way Comes." The author was honored with a star on the Hollywood Walk of Fame on April 1, 2002.