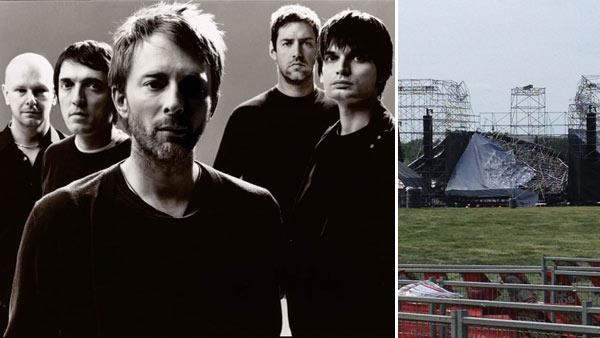 Radiohead concert stage collapses in Toronto, 1 dead
06/16/2012 by Olivia Allin
Radiohead was preparing to perform at a sold-out concert in Toronto's Downsview Park on Saturday, when the stage collapsed, killing one person.
Deputy commander of Toronto Emergency Medical Services Ian McClelland told CNN that paramedics pronounced the person dead at the scene of the accident. There were two people with minor injuries and another with serious injuries, who was transported to the nearby Sunnybrook Hospital.
"Due to unforeseen circumstances tonight's at Downsview park tonight has been cancelled," Radiohead wrote on their official Twitter page on June 16. "Fans are advised not to make their way to the venue."
Those injured were setting up the stage when a "scaffolding-type structure collapsed" fell from 40-60 feet above the main stage, according to the news outlet. The accident occurred at about 4 p.m. local time and was not caused by weather conditions.
"Radiohead concert canceled. There has been an incident, more details forthcoming," read a post on Downsview Park's official Twitter page.
The concert was to mark the 15 year anniversary of the release of Radiohead's beloved album, "OK Computer."
The English band, which formed in 1985 and consists of Thom Yorke, Jonny Greenwood, Colin Greenwood, Phil Selway and Ed O'Brien, are known for songs like "Creep," "Fake Plastic Trees," "Karma Police" and "Paranoid Android."
(Copyright ©2013 OnTheRedCarpet.com. All Rights Reserved.)