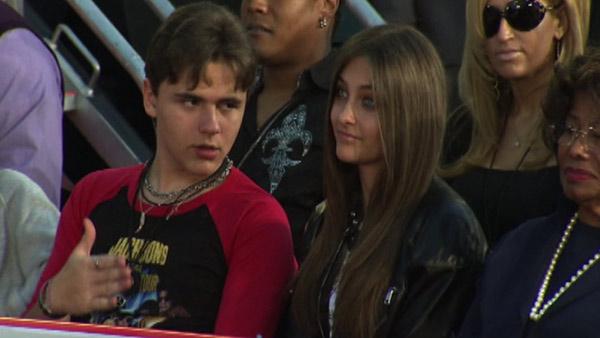 Prince Jackson on family drama: I'm really angry and hurt
07/26/2012 by OnTheRedCarpet.com Staff
Prince Jackson has opened up about his family's recent dramas and said he is "really angry and hurt" by his aunts and uncles' behavior.
"I would first like to start off this tweet by thanking the fans that have always stood by me and my family, my dad really appreciated your support and I still treasure it to this day," Prince Jackson wrote on Twitter on July 26, which has since been deleted but is viewable on Twitlonger. "As I am sure everyone is well aware of the events that have been going on. I have been holding off on backing up my sister and her tweets avidly because I was waiting for the time to reveal my side."
The 15-year-old and his siblings Paris and Blanket have been at the center of a battle over their guardianship after their grandmother Katherine Jackson was brought to Arizona by several family members and didn't inform them of her whereabouts.
"As long as I can remember my dad had repeatedly warned me of certain people and their ways. Although I am happy my grandma was returned, after speaking with her I realized how misguided and how badly she was lied to," Prince continued. "I'm really angry and hurt."
Prince proceeded to Tweet a screen grab of a group text he sent to Janet Jackson, Rebbie Jackson and Austin Jackson. In his message, Prince wrote, "This is enough so I am texting you for the simple fact that WE DEMAND TO SPEAK TO MY GRANDMA NOW!!!"
Janet Jackson, who appeared to not know her reply would be seen by Prince, wrote, "Don't let them pls."
Of the text interaction, which can be seen below, Prince wrote, "The following image is of a group chat I had started to several family members. This group text message I had started was replied to but they didn't know that I could see the responses. For this whole time, they denied us contact to our grandmother. 'If you continue with your lies I will continue with the truth.'"
Prince's 14-year-old sister Paris was happier with her grandmother's return, Tweeting around 5 a.m. PT on July 26, "grandma's here ! #thankyougod <33"
It was ruled on July 25 that TJ Jackson, Michael Jackson's nephew, son of Tito and former member of pop trio 3T, was appointed the temporary guardian of the late King of Pop's three children.
Katherine Jackson, the 82-year-old Jackson family matriarch said that she was "devastated" that her grandchildren were taken away from her and insisted that the court ruling was "based on a bunch of lies," but said that she had a "good idea who's doing that."
Katherine said that she gave up her phone before going to the Miraval Spa in and also addressed rumors that she had been kidnapped and manipulated by her own family, as some media outlets have claimed.
"There are rumors going around about me that I have been kidnapped and held against my will. I am here today to let everybody know that I am fine and I'm here with my children and my children would never do a thing like that, hold me against my will. It's very stupid for people to think that," Jackson told ABC News in a statement. "I'm grateful for my children that they saw that I needed rest and they wanted to take me away for a while, just a short vacation to rest up."
Katherine reportedly traveled to Arizona to visit family members amid what appears to be a growing family feud with the executors of Jackson's some $1 billion estate. The singer left his entire fortune to Katherine and his sons Prince and Blanket and daughter Paris. A judge suspended her as the children's guardian on Wednesday, July 25, saying she is unable to perform her duties.
The news comes days after a scuffle among family members at Katherine's Los Angeles-area home, where the children live. Police were called to investigate a report about a physical disturbance between two people. No arrests were made. ABC News said siblings Randy, Jermaine and Janet Jackson showed up and apparently tried to take away the kids. Paris recently denied a report that said Janet slapped her.
It is unclear when precisely Katherine flew to Arizona, but over the weekend, her absence spurred her nephew, Trent Jackson, to report her missing to Los Angeles authorities. She was later found to be in Arizona with other relatives and authorities closed the case.
UPDATE: Earlier in the day, a Tweet which read "these tweets our not our own" was sent from Prince Jackson's official Twitter account and was then deleted, along with the rest of his messages mentioning his family. In the early afternoon, Paris Jackson Tweeted that her brother's statement was written by him, but the "these tweets our not our own" message was written by someone who hacked his account.
Prince reTweeted his previous statement and the screengrab pictured below.
Sign up Stay Informed
Entertainment News