Entertainment News: prince harry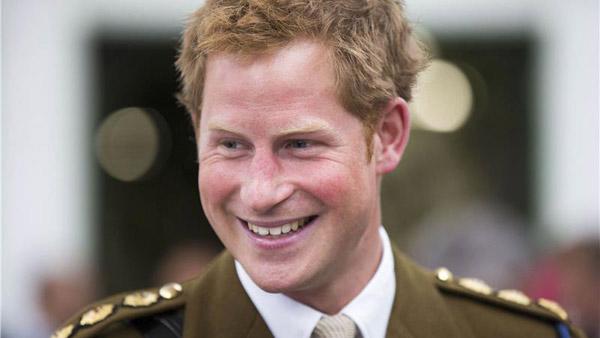 09/11/2013
Prince Harry says he loves being an uncle, telling children at an awards ceremony that he'd just witnessed the baby who may one day be king crack a smile.
Harry, who was pushed back to fourth-in-line to the British throne following the birth of his brother's son, Prince George, said Wednesday he'd just visited the 1 1/2-month-old royal, who was taking a bath.
More prince harry
07/25/2013
Prince Harry talked to reporters at a charity event on London on Thursday, July 25, about meeting his nephew for the first time and his new role as an uncle.
Harry said, according to The Associated Press, that when he met Prince George he was "crying his eyes out, as all babies do."
01/21/2013
Prince Harry will soon be returning back home after a five-month deployment in Afghanistan, the Ministry of Defense revealed on Monday, January 21, and the 28-year-old royal talked to reporters recently about his experience.
While in Afghanistan, where he served under the name Capt. Wales, the prince was an Apache helicopter pilot with the Army Air Corps. He said he fired at Taliban fighters on mission to support the ground troops.
09/07/2012
Britain's Prince Harry arrived in Afghanistan on Friday, Sept. 7, 2012 for his second deployment in the war-torn country and weeks after he made headlines worldwide due to leaked photos of him partying nude in a Las Vegas hotel room. He will be serve for four months as an Apache attack helicopter co-pilot and gunner. He served in Afghanistan for the first time in 2007.
Check out photos of Prince Harry on his first day back in Afghanistan.
08/26/2012
Prince Harry might be in the media spotlight for his nude escapades in Las Vegas last week but media mogul Rupert Murdoch thinks the prince might deserve a break.
On Sunday, August 26, the 81-year-old wrote, "Prince Harry. Give him a break. He may be on the public payroll one way or another, but the public loves him, even to enjoy Las Vegas."
08/15/2012
Prince Philip, the 91-year-old husband of the UK's Queen Elizabeth II and the grandfather of Prince William, was recently hospitalized as a "precautionary measure," Buckingham Palace announced on Wednesday, August 15.
Officials did not provide a reason. The elder prince, known as the Duke of Edinburgh, Earl of Merioneth and Baron Greenwich, was taken to Aberdeen Royal Infirmary, located in Scotland, where he had been staying with his wife.
12/24/2011
Prince Philip got a few royal visitors on Saturday, December 24, after his minor heart surgery on Friday.
The 90-year-old prince was admitted to the hospital after he experienced chest pains according to ABC News. Prince Philip was transported from the Royal family's country estate in Sandringham, England, where the royal family were gathered together to spend the holidays, to Papworth Hospital in Cambridge. He then underwent surgery to open a blocked artery. The procedure was reportedly minimally invasive and Philip - also known as the Duke of Edinburgh - had a coronary stent put in.
04/25/2011
Chelsy Davy, who is Prince Harry's on-again-off-again girlfriend has reportedly been invited to the royal wedding on Friday, leading some to conclude that she might be Harry's date.
Davy, 25, is on the guest list for the 'wedding of the century' which will take place at Westminster Abbey on April 29, British tabloid The Sun reports. The blonde lawyer-in-training is also likely to attend the private reception after the wedding, where Harry, 26, will deliver his best man's speech.
Sign up Stay Informed
Entertainment News