Entertainment News: pierce brosnan
07/01/2013
Pierce Brosnan's daughter Charlotte has died at age 41 after battling ovarian cancer.
Her mother, Cassandra Harris, had also succumbed to the disease in 1991, at age 43. Charlotte died on June 28, the 60-year-old Irish actor said in a statement obtained by OTRC.com on Monday.
More pierce brosnan
09/03/2012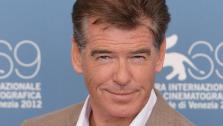 Check out photos of Pierce Brosnan, aka James Bond No. 5, looking classy and suave at the 69th Venice Film Festival on Sept. 2, 2012, showcasing two different color suits.
The 59-year-old Irish actor, who also wore a Squadra Rose Gold Jaeger-LeCoultre watch, attended the event to promote his latest film, "'Love Is All You Need." He was joined by co-star Trine Dyrholm and director Susanne Bier.
07/15/2011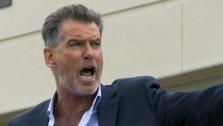 Pierce Brosnan takes on the role of a charismatic mega church preacher in "Salvation Boulevard," which opened in select theaters on July 15.
"Salvation Boulevard" follows three men, semi-religious Grateful Dead fan Carl Vanderveer (Greg Kinnear), Dan Day (Brosnan) and atheist professor Dr. Paul Blaylock (Ed Harris), whose decision to combine forces goes awry when Day accidentally shoots Blaylock and tries to blame it on Carl, who finds himself on the run from religious fundamentalists.
12/11/2011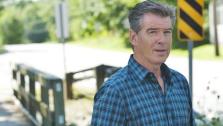 Pierce Brosnan is making his way back to the small screen.
The Irish actor stars in the four-hour A&E miniseries "Bag of Bones." The miniseries is a supernatural thriller based on a best-selling novel by Stephen King.
Brosnan plays Mike Noonan, a bestselling novelist trying to cope with writer's block and his grief after losing his wife Jo. He returns to their old lakeside home in Maine and befriends a young widow named Mattie (Melissa George) and her daughter Kyra (Caitlin Carmichael). Check out a preview here.
Sign up Stay Informed
Entertainment News