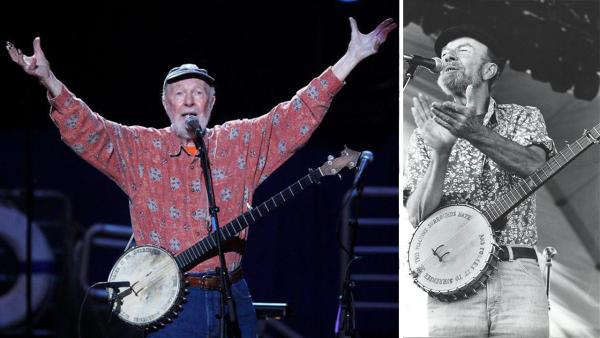 Pete Seeger dies: Folk singer, activist was 94 (Updated)
01/27/2014 by Corinne Heller
Pete Seeger, an iconic three-time Grammy winning folk singer, known for songs such as "We Shall Overcome," and activist has died at age 94.
Seeger's grandson, Kitama Cahill-Jackson, told the Associated Press that the musician died on Monday, Jan. 27, in New York after being hospitalized for six days.
Seeger rose to fame fame as a member of the quartet The Weavers, which formed in 1948 and had hits such as "Goodnight Irene." He recorded music for the next 60 years, releasing songs such as "We Shall Overcome," "Where Have All the Flowers Gone?" and "Turn! Turn! Turn! (to Everything There Is a Season)."
Seeger was known for his activism and liberal politics, which got him blacklisted from commercial radio and TV in the 1940s and 1950s. Seeger protested the Vietnam War in the 1960s and decades later, the Iraq War.
In 1961, he was famously sentenced to 10 years in prison for refusing to testify to Congress about his past involvement with the Communist Party USA. His conviction was later overturned by an appeals court.
"The best thing about America is the amount of controversy"
The singer's banjo contained the inscription: "This machine surrounds hate and forces it to surrender."</p
"All my life, I've been singing for unpopular causes -- unions, peace civil rights," Seeger told Newspaper Enterprise Association journalist Ernestine Guglielmo in 1973. "But I don't mind singing controversial songs. The best thing about America is the amount of controversy. People all over the world -- and I've sung for my supper all over the world -- say that, despite mistakes, you in the U.S. can speak your mind."
"America won't solve its problems unless there's argument and controversy," he added. "When I was a kid, I believed the only way to live with hypocrisy was to be a hermit. My natual inclination is to go off by myself. But for 40 years, I've been up to my ears in one form of action or another."
Seeger continued to be an activist in his later years. In 2009, Seeger performed at a gala honoring U.S. President Barack Obama, two days before the leader's inauguration. In 2011, Seeger marched during the Occupy Wall Street Protests in New York City.
Seeger is survived by a son, Daniel, daughters Mika and Tinya and six grandchildren. The singer's wife, Toshi, died in 2013, days before their 70th anniversary.
"Three-time GRAMMY winner and Recording Academy Lifetime Achievement Award recipient Pete Seeger was a living history of America's music and conscience," The Recording Academy said in a statement to OTRC.com on Tuesday. "A singer, songwriter, and social activist, he played a major role in the revival of folk music in the late 1950s."
"For eight decades, he actively confronted injustice in the United States, and used the transformative power of his songs to inspire action," the group said. "Our music community and our country have lost a national treasure, and we will continue to honor his memory every time we sing one of his many anthemic songs. Our deepest sympathies go out to his family, his friends, and all of the musicians who pay tribute to and continue his legacy every day."
Celebrities mourn Pete Seeger
Pete Seeger was mourned by several celebrities on Twitter. Check out messages they posted:
Steve Martin tweeted: "I bought his book, "How to Play the 5-String Banjo" when I was 16. American hero in so many ways: Pete Seeger.
Phillip Phillips, who won season 11 of FOX's "American Idol," tweeted: "RIP Pete Seeger. Great singer/musician/songwriter. You will be missed."
Edward James Olmos, an actor known for roles in "Battlestar Galactica," "Blade Runner" and "Dexter," tweeted: "A noble & honorable man who was an inspirational voice & leader of a movement that will continue for generations."
Brent Spiner, who played Data on "Star Trek: The Next Generation" and also starred in the movie "Independence Day," tweeted: "Farewell to Pete Seeger. A great man with a great heart."
(Copyright ©2014 OnTheRedCarpet.com. All Rights Reserved.)
Sign up Stay Informed
Entertainment News