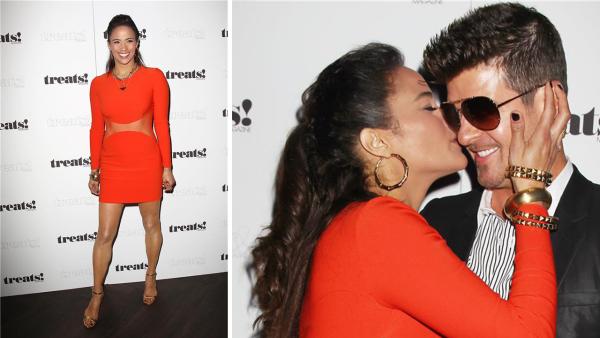 Paula Patton wears mini-dress, kisses Robin Thicke at party (Poll)
09/05/2013 by Corinne Heller
Robin Thicke and Paula Patton were all over each other at a release party for his "Blurred Lines" album in New York, kissing and embracing at the arrivals area in front of photographers.
The two have been married for eight years and have a 3-year-old son, Julian, who did not attend the event at the No. 8 nightclub on Wednesday. The party was hosted by Treats! magazine.
(Check out more >PHOTOS of Robin Thicke and Paula Patton at the "Blurred Lines" album release party - Susan Sarandon also made an appearance.)
Patton, 37, wore a fiery red Stella McCartney Fall 2013 mini-dress with sheer cutout panels that left her sides and upper midriff exposed.
"Blurred Lines" has been in stores since July and features the title song that features Pharrell and T.I., which was released as a single earlier this year. The unrated version of its music video features the singers and a group of half-naked women and has been watched more than 17.8 million times on YouTube.
The singers and Miley Cyrus performed a medley that contained part of the song at the 2013 MTV Video Music Awards (see PHOTOS of 9 best moments from the show). The performance, which saw the pop star twerking on Thicke, drew controversy online. Cyrus later explained that they were trying to "make history."
What do you think about Paula Patton's look? Vote in our poll.
(Copyright ©2014 OnTheRedCarpet.com. All Rights Reserved.)
Sign up Stay Informed
Entertainment News