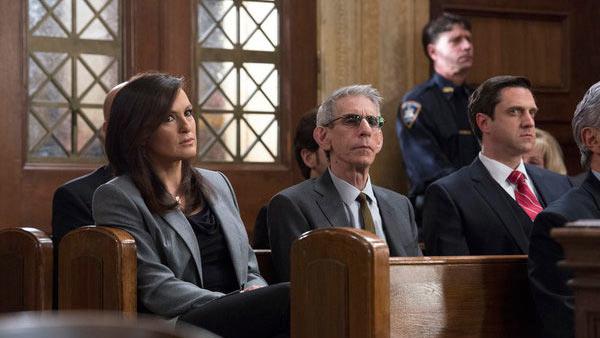 Paula Deen-like scandal to be depicted on 'Law & Order: SVU' episode
08/22/2013 by Kristina Lopez
"Law & Order: Special Victims Unit" will have another "ripped from the headlines" plot in an episode that mixes elements of the Paula Deen scandal and the killing of Trayvon Martin.
The show's executive producer, Warren Leight, gave an interview to Entertainment Weekly on Aug. 21 explaining the episode. The interview occurred after pictures from the set were posted on BuzzFeed.
"[Jeffrey] Tambor is a defense attorney representing a very high-profile celebrity woman chef who thought she was being pursued by a rapist and turned around it was a teenager. And she shot him," Leight told Entertainment Weekly.
Cybill Shepherd has been cast as the celebrity chef Leight mentioned. "Smash" actor Leslie Odom Jr. will play a minister of the slain teen featured in the episode, which will be the third of the season.
Leight also described the script as a "litmus test" for the cast and crew of the show when it first came out.
"When the script was published it became a litmus test for everybody here," he told the magazine. "It was really interesting to see people read that script and have different interpretations about who did what and whether or not they deserved prison for it. It was fascinating."
"Law & Order: Special Victims Unit" is set to kick off its 15th season with a two-hour premiere on Sept. 25 at 9 p.m. on NBC.
Earlier this month it was reported that a judge tossed out the race discrimination claims made against Deen in a federal lawsuit. However, the case will continue to be investigated and will focus on a restaurant worker's allegations of sexual harassment.
Lisa Jackson claims in the lawsuit that while working in a Georgia restaurant owned by Deen and her brother, Bubba Hiers, the TV chef had used a racial slur in front of her. She alleges that Deen's brother discriminated against black workers and made sexual comments in front of her and also touched her inappropriately. The Deen family denies any wrongdoing.
It was revealed in June that Deen had admitted in a court deposition to using racial slurs in the past. Several companies, including the Food Network, J.C. Penney and Sears, then parted ways with the 66-year-old self-proclaimed queen of Southern cooking.
Deen later issued video apologies on YouTube and also made an emotional appearance on NBC's "Today" show (check out 7 key quotes).
(See more details about the lawsuit against Paula Deen and her brother.)
(Copyright ©2013 OnTheRedCarpet.com. All Rights Reserved.)
Sign up Stay Informed
Entertainment News