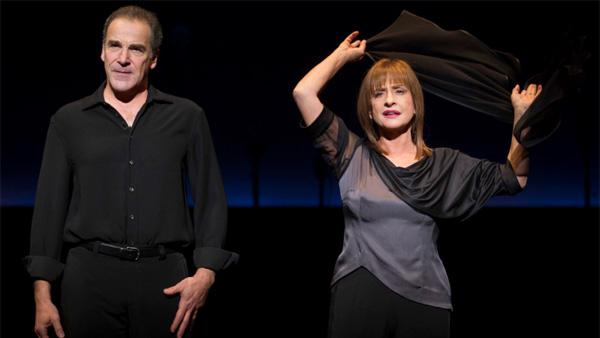 Patti LuPone, Mandy Patinkin reunite on Broadway, some 30 years after 'Evita'
11/21/2011 by Corinne Heller
Patti LuPone and former "Evita" co-star Mandy Patinkin recently reunited on a Broadway stage for the first time in about 30 years. LuPone, 62, and Patinkin, 58, star in "An Evening With Patti LuPone and Mandy Patinkin," touted as a "musical love story" that sees the two singing songs from shows by Stephen Sondheim, Rodgers & Hammerstein and others, as well as several tracks from "Evita." The production opens officially on Monday, November 21, at the Barrymore Theatre and runs until January 13, after which the pair plans to perform on tour throughout the United States until September. (
Click here for tickets
.) "We sing a song in the show, called 'Old Friends,' and
Patti always says, 'Remember, we're not old!'" Patinkin told The New York Times
. "I have to say, when I look at this lady, it's a time machine. I look in her eyes, and I am 30 years younger. It is one the great drugs of all time." The actors have in recent years performed together around the world and in previews for the show, which began earlier this month.
"We'd done it almost everywhere but New York, and our producer Staci Levine said, 'Do you want to do it in New York?'" Patinkin told Playbill.com
. "And our calendars were agreeable. And it just fell into place, like overnight. So we just said, 'Go.'" LuPone and Patinkin first appeared in a Broadway show together in 1979 with the musical "Evita." They performed in the production until 1983. LuPone played Argentinian icon Eva Peron in Andrew Lloyd Webber's classic production, while Patinkin portrayed the narrator, Che. Both won Tony awards for their performances. Madonna and Antonio Banderas played the pair's roles in a 1996 film. LuPone is also known for playing Madame Rose in the 2008 Broadway revival of "Gypsy," a part that also earned her a Tony, as well as for her performances as Fantine in the original London cast of "Les Misérables" and fallen star Norma Desmond in "Sunset Boulevard." Earlier this year, LuPone starred alongside other on-screen celebrities, including Neil Patrick Harris and Stephen Colbert, in a production of the musical "Company" in New York and appeared in the
finale of the second season of "Glee."
She also played the mother in the drama series "Life Goes On," which aired from 1989 to 1993, portrayed Stella in the HBO prison series "Oz" and guest starred on the NBC sitcom "30 Rock." Patinkin began his on-screen career in the late 1970s and starred opposite Barbra Streisand in the 1983 musical movie "Yentl." He currently stars opposite Claire Danes in the terrorism-themed Showtime series "Homeland." Patinkin also appeared in movies such as "Dick Tracy," which stars Madonna, played Dr. Jeffrey Geiger on the medical drama "Chicago Hope" and portrayed Jason Gideon on the show "Criminal Minds." But one of Patinkin's most famous roles was that of swashbuckler Inigo Montoya in the 1985 fantasy film "The Princess Bride."
(Copyright ©2014 OnTheRedCarpet.com. All Rights Reserved.)
Sign up Stay Informed
Entertainment News