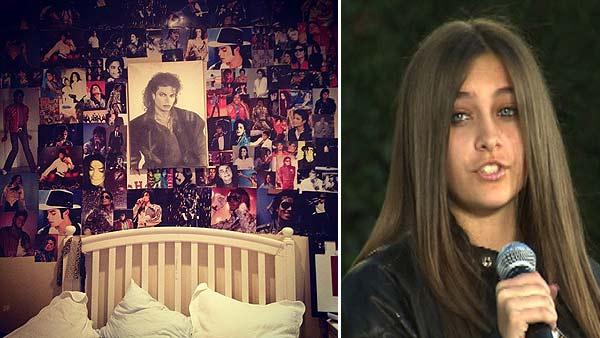 Paris Jackson shows bedroom shrine to Michael Jackson (Photo)
08/07/2012 by Corinne Heller
Paris Jackson recently shared with her fans a picture of her bedroom shrine to her late father, Michael Jackson.
The photo, which was posted on her Instagram page on Monday, shows a collage of mostly official publicity shots and posters of the King of Pop plastered on the wall behind her bed.
"My new wall," the 14-year-old Tweeted, adding: "**took me 3 effing hours**"
"Someone commented on my pic saying 'obsessed much?'" Paris added. "Yeaa u better believe it .. a whole wall of his pics is the LEAST i could do #dedication (sic)."
Jackson died at age 50 in June 2009 from an accidental overdose of the anesthetic propofol and other medications in his rented Los Angeles mansion. Paris was 10 at the time.
At a public and televised memorial at Staples Center sports arena, the little girl spurred fresh tears - and became a star in her own right - when she appeared with her family, took the microphone and said: "I just want to say ever since I was born, Daddy has been the best father you can ever imagine."
She often talks about her father and has also posted lyrics of his songs on her Twitter page, which is followed by more than 809,000 people.
"imma have my 7777th tweet in honor of my dad(: 7 was his favorite number lol<3 (sic)," she Tweeted on July 27.
On June 20, she posted an Instagram photo of Jackson kissing her mother, Debbie Rowe, alongside the caption "mommy and daddy!<3"
Paris and her brothers, Prince and Blanket, recently found themselves in the middle of a family dispute. Their grandmother and guardian, Katherine, flew to Arizona last month to visit family. Her nephew reported her missing and Paris ranted about her absence, which appeared to be unprecedented, on her Twitter page, which is followed by more than 809,000 people.
The children's cousin, TJ, was then made the children's temporary guardian. Katherine returned to Los Angeles, where she lives with the kids, after 10 days and she and TJ settled the custody matter in court. Katherine was reinstated as guardian and TJ was made a temporary co-guardian.
The matriarch said she was kept from communicating with outsiders while she was at an Arizona report. She claimed she was flown to the spa on doctor's orders and that her cell phone and iPad were taken away and that she stayed in a room without a working phone or television.
Her trip came at the heels of a dispute about Jackson's will between his siblings. One of them, singer Janet Jackson, later released a statement saying that she and her brother Randy and sister Rebbie "have questioned the validity of the will with no financial motive whatsoever."
Sign up Stay Informed
Entertainment News