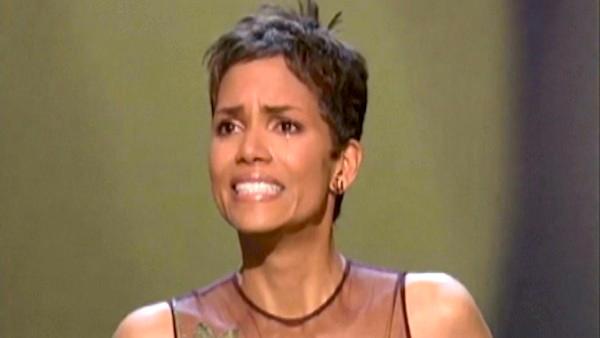 Oscars history: 14 memorable moments and speeches
02/22/2013 by OnTheRedCarpet.com Staff
Throughout this Oscar season, we are looking back at some of the most memorable moments and speeches in Academy Awards history.
Check out videos below.
1. 2002: Halle Berry becomes the first black woman to win an Oscar for Actress in a Leading Role, given for her part in "Monster's Ball." (Watch video)
2. 1999: Steven Spielberg wins the Oscar for Best Director for his war drama "Saving Private Ryan," which he called an "extraordinary moment" in his life. (Watch video)
3. 1998: Matt Damon and Ben Affleck win the Oscar for Best Original Screenplay for their 1997 drama "Good Will Hunting." (Watch video)
4. 1997: Cuba Gooding Jr. does a celebratory jig after winning the Oscar for Best Supporting Actor for "Jerry Maguire." (Watch video)
5. 1994: Anna Paquin, then just 11 years old, won the Oscar for Best Supporting Actress for her role as the daughter of a mute pianist in "The Piano," becoming the second youngest winner in history. (Watch video)
6. 1994: Tom Hanks wins his first Oscar for his role in "Philadelphia" as Andrew Beckett, a gay lawyer who sues his former law firm for discrimination once it comes to light that he has AIDS. (Watch video)
7. 1992: Billy Crystal opens the ceremony dressed as Hannibal Lecter. (Watch video)
8. 1986: Oliver Stone wins the Oscar for Directing for his film "Platoon." Elizabeth Taylor presented him with the award. (Watch video)
9. 1985: Sally Field delivers a widely misquoted speech after winning the Oscar for "Places in the Heart." (Watch video)
10. 1978: Vanessa Redgrave delivers a controversial speech when accepting the award for Best Supporting Actress for her role in "Julia" as an anti-Nazi activist. (Watch video)
11. 1974: David Niven is interrupted when introducing Elizabeth Taylor, who was set to present the Oscar for "Best Picture," when a streaker ran across the stage. (Watch video)
12. 1973: Sacheen Cruz Littlefeather steps in to refuse Marlon Brando's Oscar for Best Actor for his role in "The Godfather." (Watch video)
13. 1969: Oscar history is made when Barbra Streisand and Katharine Hepburn tie in the Best Actress category. It marked the first time a tie had been declared in any female acting category and the second instance of a tie in all of Oscar history. (Watch video)
14. 1961: Host Bob Hope is surprised by "the world's greatest gatecrasher." (Watch video)
The 2013 Oscars will air live on Sunday, February 24 on ABC, OTRC.com's parent company.
WATCH celebrities arrive on the red carpet
Before the Oscars, Malave and Lawrence Zarian will co-host OTRC.com's pre-Oscars show LIVE STREAM that day at 4:30 p.m. ET / 1:30 p.m. PT with a VERY special guest -- "The Real Housewives of Beverly Hills" star Brandi Glanville, who will serve as a fashion correspondent.
You can also watch the red carpet arrivals -- and footage of stars going to after parties -- on TV in more than 50 U.S. cities and 30 countries on Oscar Sunday by watching "On The Red Carpet at the Oscars." Check out more details about the TV specials, which will feature host Rachel Smith as well as George Pennachio of OTRC.com's parent company KABC Television.
Check out a full list of 2013 Oscar nominations.
As you continue to count down to Oscar Sunday, check out the official 2013 Oscars App.
It is available on iPhone, iPad, iPod Touch, Android and Kindle Fire.
Download the official OSCARS APP HERE.
The app includes information about the nominees, exclusive videos and photos. You can also pick who YOU think should take home an Oscar with the My Picks 2013 Official Oscar Ballot. You can make your picks before and during the Oscars.
(Copyright ©2013 OnTheRedCarpet.com. All Rights Reserved.)
Sign up Stay Informed
Entertainment News