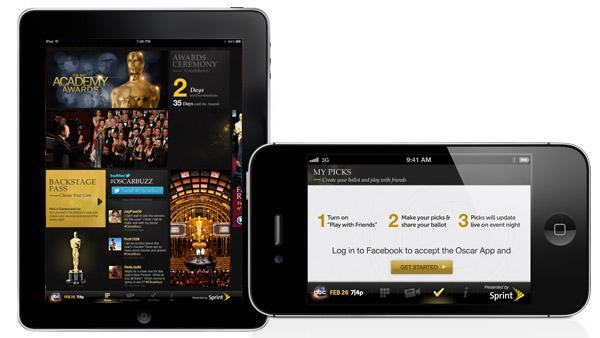 Oscars app gives movie fans exclusive, interactive Oscar Night experience
01/24/2012 by OnTheRedCarpet.com Staff
So you're not a member of The Academy, but you have your own ideas about who should win an Oscar. No worries, you've got it all covered with the official Oscars app.
It's now available online in the iTunes App Store. The official app of the Academy Awards gives movie fans the most exclusive, interactive Oscar Night experience ever.
Not only can you make your Oscar picks, you can even compete with friends on Facebook. On Oscar Sunday, users play along during the show and predict category winners ahead of the opening of the envelopes. The app will refresh and calculate your results as categories are won.
You can also access exclusive video, including a series on fashion hosted by our own Rachel Smith.
Using the app gives fans unprecedented access to live streams from exclusive cameras placed throughout the red carpet, the Kodak Theatre and the Governors Ball so you can go beyond the TV broadcast and watch more live Oscar action as its taking place.
The Academy and Disney/ABC Television Group's Digital Media Team designed the app.
The app is free and works on the iPhone, iPod Touch and iPad.
You can download the Oscars app in the iTunes App Store.
It was announced in November, that Crystal would return to host the 84th annual Academy Awards.
The awards ceremony will air live on Sunday, February 26, 2012 on ABC, OnTheRedCarpet.com's parent company.
Disney is the parent company of On The Red Carpet and ABC.com.
OnTheRedCarpet.com will have complete coverage of the Oscar season, including an exclusive interactive live stream show LIVE from the red carpet. Follow @OnTheRedCarpet on Twitter and "Like" On The Red Carpet on Facebook, and download our FREE entertainment news app for the iPhone and iPad
(Copyright ©2014 OnTheRedCarpet.com. All Rights Reserved.)
Sign up Stay Informed
Entertainment News