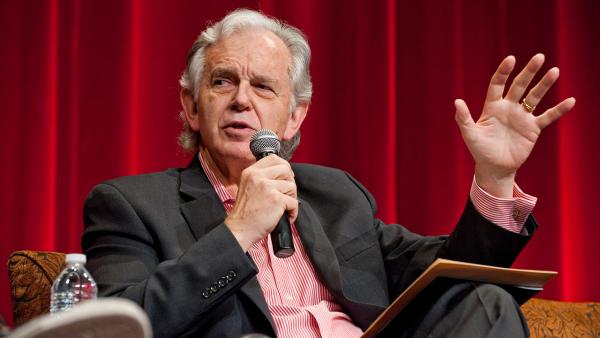 Oscars 2014: Academy rescinds 1 nomination, Bruce Broughton responds
01/30/2014 by Corinne Heller
One out of the five tracks nominated for Best Original Song at the 2014 Oscars has been disqualified -- a rare occurrence in Oscar history. The Academy of Motion Picture Arts & Sciences' Board of Governors voted on Tuesday to rescind the nomination for "Alone Yet Not Alone," written by Bruce Broughton and featured in the Christian movie by the same name. "The decision was prompted by the discovery that Broughton, a former Governor and current Music Branch executive committee member, had emailed members of the branch to make them aware of his submission during the nominations voting period," the Academy said in a statement to OTRC.com. Broughton said in response to the disqualification, in an interview with
CBS News
: "It's somewhere between devastated, disappointment, dejected." Broughton, who was also nominated for an Oscar in 1985 for Best Original Score for the movie "Silverado," was asked he feels he has been "kind of been kicked in the shins." Broughton replied: "Well, the shins and other places. Yes."
"Unfair advantage"
A copy of the email in question was posted on CBS' website. "I'm sending this note only because it is extremely unlikely that this small, independent, faith-based film will be seen by any Music Branch member," Broughton wrote. "It's the only way I can think of to have anyone be aware of the song. This is merely a request 'For Your Consideration,' a hope that the song will get noticed and be remembered among the many worthy songs from more highly visible films." "No matter how well-intentioned the communication, using one's position as a former governor and current executive committee member to personally promote one's own Oscar submission creates the appearance of an unfair advantage," Cheryl Boone Isaacs, Academy president, said in the group's statement. The Academy said an additional nominee in the Best Original Song category will not be named. The remaining four tracks nominated for Best Original Song are "Let It Go" from Disney's movie "Frozen," U2's "Ordinary Love" from "Mandela: Long Walk to Freedom," Pharrell Williams' "Happy" from "Despicable Me 2" and "The Moon Song" from "Her." Check out a
full list of 2014 Oscar nominations
.
4 other Oscar nominations that were once disqualified
1. 1932 (5th Oscars) - "Stout Hearts and Willing Hands"- RKO Radio (Short Subject - Comedy)
The film was was disqualified and was replaced by another RKO Radio short, "Scratch-As-Catch-Can." No documentation has been found as to why this film was disqualified.
2. 1969 - "Young Americans" (Documentary Feature)
At the 41st Oscar ceremony on April 14, 1969, the film was announced as the winner of Best Documentary Feature. In May, it was declared ineligible after it was revealed that the film had been screened in October 1967 -- months too early. The first runner-up, "Journey into Self," was awarded the statuette on May 8, 1969.
3. 1993 - "A Place In The World"- (Foreign Language Film)
The movie was submitted by Uruguay and disqualified from Oscar consideration after the Academy declared it to be ineligible because it was actually produced in Argentina and "had insufficient Uruguayian artistic control."
4. 2012 - "Tuba Atlantic"- (Short Film - Live Action)
After the 2012 Oscars, the Academy was made aware that the film had been shown on Norwegian television in 2010, making the film ineligible for the ceremony that year. The Board of Governors rescinded the nomination the following July.
(Pictured above: Bruce Broughton appears during the 'What's Opera Doc?' event, presented by the Academy of Motion Picture Arts and Sciences as part of the Marc Davis Celebration of Animation, on Friday, May 14, 2010 in Los Angeles.)
Watch videos / listen to audio recordings of "Alone Yet Not Alone" and the remaining four songs nominated for a 2014 Oscar for Best Original Song below.
(Copyright ©2014 OnTheRedCarpet.com. All Rights Reserved.)
Sign up Stay Informed
Entertainment News