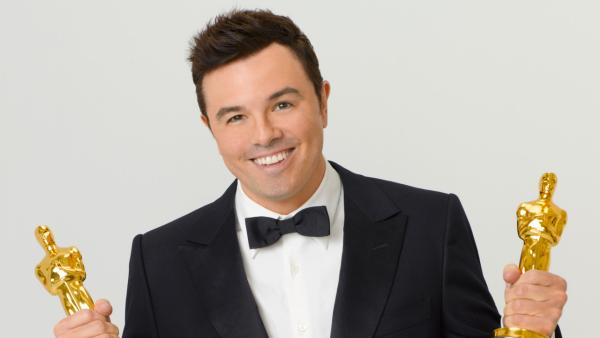 Oscars 2013: Seth MacFarlane, Kristin Chenoweth to give 'special' closing musical performance
02/21/2013 by Nichole Hamilton
Seth MacFarlane, host of the 2013 Oscar ceremony, and performer Kristin Chenoweth are set to participate in a special show closing musical performance. "After the Best Picture award has been given, Seth and Kristin will perform a special number and we think it will be a 'can't miss' moment," said show producers Craig Zadan and Neil Meron. Chenoweth is known for her work in musicals, having starred in the famed Broadway show "Wicked" in 2003 as the original Glinda the Good Witch. The actress has also appeared in "You're a Good Man, Charlie Brown," "The Apple Tree" and "Promises, Promises." She's also appeared in television shows such as "Glee" as well as films such as "Bewitched," "Four Christmases" and "Deck the Halls." MacFarlane, creator of "Family Guy" and voice of characters such as Peter Griffin and Brian the dog, has performed some Broadway tunes himself. The personality
appeared at BBC Proms in 2012,
performing "Singing in the Rain" and other songs. In 2011, the television series creator debuted his first album, "Music is Better Than Words," which has been dubbed a "classic Sinatra-style album" that features swing, big band and jazz tunes. The television personality is also set to host the 2013 Oscars and
announced the nominations, along with actress Emma Stone
, on January 10. Chenoweth joins a stellar list of previously announced Oscar presenters including
Michael Douglas, Jamie Foxx, Jennifer Aniston and Paul Rudd
,
Selma Hayek Pinault, Melissa McCarthy, Liam Neeson and John Travolta
,
current Oscar nominees
Ben Affleck, Jessica Chastain, Jennifer Lawrence, previous Best Actress winners
Halle Berry, Sandra Bullock, Nicole Kidman and Reese Witherspoon
,
"Chicago" cast members
Catherine Zeta-Jones, Renee Zellweger, Richard Gere, and Queen Latifah,
Mark Wahlberg and Ted
, 'The Avengers' cast members
Robert Downey Jr., Samuel L. Jackson, Chris Evans, Jeremy Renner and Mark Ruffalo
; returning 2011 Oscar winners
Jean Dujardin, Christopher Plummer, Octavia Spencer and Meryl Streep
; special guests Joseph Gordon-Levitt, Daniel Radcliffe, Channing Tatum and Charlize Theron; and performers
Adele
, Dame Shirley Bassey,
Norah Jones
and
Barbra Streisand
. Check out a
full list of 2013 Oscar nominations
. The Oscar ceremony will air live on Sunday, February 24 on ABC, OTRC.com's parent company. You can also check out the interactive
My Picks 2013 Official Oscar Ballot
.
(Copyright ©2014 OnTheRedCarpet.com. All Rights Reserved.)
Sign up Stay Informed
Entertainment News