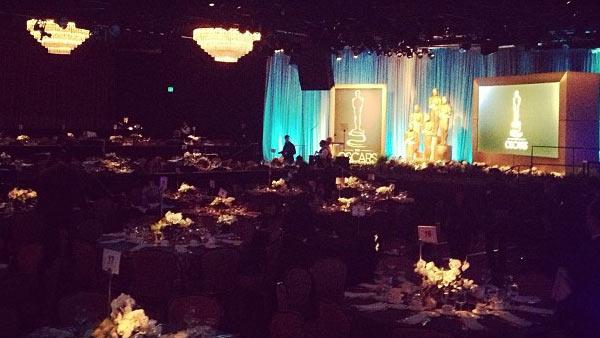 Oscars 2013: Oscar Nominees Luncheon - Live Blog
02/04/2013 by OnTheRedCarpet.com Staff
Nominees of the 2013 Oscars were honored at an Academy of Motion Picture Arts and Sciences luncheon on February 4. The Academy live blogged and Tweeted from the event, which began at 12 p.m. PT. / 3 p.m. ET. You can read the
blog here
and follow the events on Twitter
@TheAcademy
and Instagram
Instagram.com/TheAcademy
. Seventeen of the 20 nominees in the acting categories were among more than 160 Oscar nominees who gathered at the Beverly Hilton for the luncheon. The list is as follows: From the
Lead Actress and Actor
categories: Jessica Chastain, Jennifer Lawrence, Quvenzhané Wallis, Naomi Watts, Bradley Cooper, Daniel Day-Lewis, Hugh Jackman, Joaquin Phoenix and Denzel Washington. From the
Supporting Actress and Actor
categories: Robert De Niro, Tommy Lee Jones, Christoph Waltz, Amy Adams, Sally Field, Anne Hathaway, Helen Hunt and Jacki Weaver. From the
Directing
category: Ang Lee ("Life of Pi"), David O. Russell ("Silver Linings Playbook"), Steven Spielberg ("Lincoln") and Benh Zeitlin ("Beasts of the Southern Wild").
Four 2012 Governors Awards recipients
: Jeffrey Katzenberg, Hal Needham and George Stevens, Jr. Check out a
full list of 2013 Oscar nominations
. The Oscar ceremony will air live on Sunday, February 24 on ABC, OTRC.com's parent company. Enter the
Ultimate Oscar Red Carpet Fan Experience Sweepstakes
for a chance to win TWO bleacher tickets and a trip to this year's Oscars red carpet in Los Angeles. You can also check out the interactive
My Picks 2013 Official Oscar Ballot
.
(Copyright ©2014 OnTheRedCarpet.com. All Rights Reserved.)
Sign up Stay Informed
Entertainment News