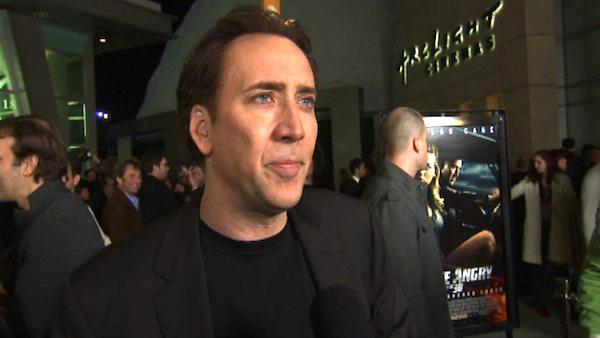 Nicolas Cage in court to discuss ex-girlfriend's lawsuit
06/14/2011 by OnTheRedCarpet.com Staff
Nicolas Cage appeared at a Los Angeles court on Tuesday, June 14 to meet with a judge to discuss a $13 million lawsuit brought against him by his ex-girlfriend Christina Fulton, mother of their 20-year-old son. She says the actor failed to transfer ownership of a house to her after promising to do so and told her he would support her and Weston Coppola Cage financially. Nicolas Cage, who has faced a slew of financial troubles in recent months, has denied wrongdoing and his attorneys say that he was paying $3 million per year to support the two. He and Fulton, a former actress, met with a judge on Tuesday to try and reach a settlement so they can avoid a trial. Nicolas Cage and Fulton were involved romantically for several years during the 1980s. Fulton says in her 2009 lawsuit, obtained by OnTheRedCarpet.com, that in May 2001, Nicolas Cage bought a Los Angeles house and she and her son moved into it with his permission. She says the actor told her its title would be transferred to her, but that never occurred. Fulton says that around 2009, she began the process of selling the home but found out the title was never transferred. She says Cage never resolved the issue and instead served her with a 60 day notice to leave the place in September of that year. Two months later she received a foreclosure notice. The judge told Fulton on Tuesday that she could not sue Nicolas Cage for breaching an oral contract to transfer ownership of the home because her claim was barred by a statute of limitations. Fulton also says that Nicolas Cage gave her a vehicle as a gift but did not tell her he had purchased or leased it under her name - information she says she learned after reviewing a June 2009 credit report. Fulton says in her lawsuit that she has suffered some $13 million in financial losses and that her credit has been "damaged to the extent that it is preventing her from living a normal life" a result of her financial dealings with the actor. Nicolas Cage has been slapped with several tax liens and other debts throughout the past few years. He has owned several homes and even an island in the Bahamas and has lost at least three houses in foreclosure auctions. Weston Coppola Cage has been in the headlines recently himself. He
married musician Nikki Williams
in New Orleans in April and was
hospitalized
earlier this month following an altercation in Hollywood.
"I do not want him with Nicolas Cage," Fulton told CNN
on June 11 following the incident. "I do not want him in that care. That is not the care my son needs." Nicolas Cage has been married three times - the first time to Patricia Arquette, then to Lisa Marie Presley and finally to his current wife, former waitress Alice Kim. The couple has one son, Kal-El, who is named after Superman's birth name.
UPDATE:
Nicolas Cage and Christina Fulton have settled their lawsuit
, OnTheRedCarpet.com has learned.
(Copyright ©2014 OnTheRedCarpet.com. All Rights Reserved.)
Sign up Stay Informed
Entertainment News