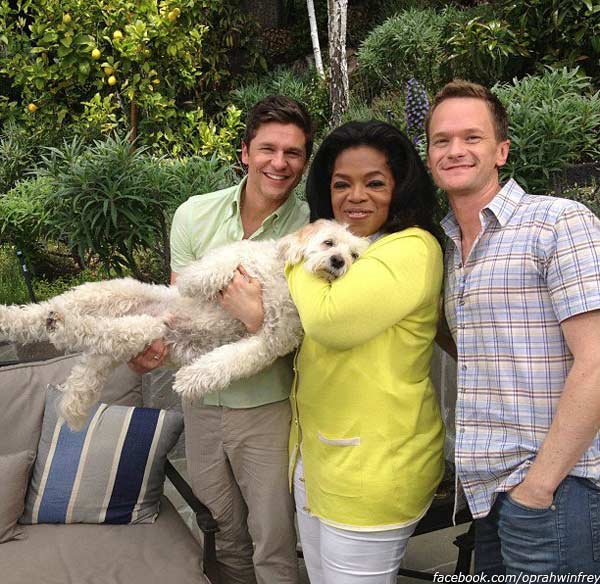 Neil Patrick Harris' dog meets Oprah Winfrey (Photo)
05/03/2012 by Corinne Heller
Oprah, Watson. Watson, Oprah. Neil Patrick Harris, his life partner David Burtka and their dog, Watson, recently hung out with one of the most powerful women in entertainment - Oprah Winfrey. The longtime television host and owner of the OWN cable channel recently posted a photo of her and the three on her
Facebook
and
Instagram
pages. She said she had interviewed the celebrity couple for her show "Oprah's Next Chapter." The episode is set to air on June 3, an OWN spokesperson told OnTheRedCarpet.com. Winfrey said that the picture was taken in the backyard of their home. Harris, the 38-year-old star of the CBS sitcom "How I Met Your Mother" and Burtka, a 36-year-old celebrity chef, live in Los Angeles with their 1-year-old twins, Gideon and Harper. Harris also shared a photo of himself with his partner in their backyard with Winfrey, without their pup, on his
Twitter
page. "Yet another My Life Is Random moments: Oprah came over to our house today," he said in his Tweet, which was posted on Wednesday. "I made her pizza. Here I am pointing at her." Winfrey is a dog lover herself and has raised many over the years. Her Facebook cover photo is a picture of her five dogs, which include a Springer Spaniel and a Golden Retriever.
Jennifer Aniston had the photo printed onto a yoga mat and gave it to Winfrey on as a 57th birthday
present in 2011. Harris, narrated the 2010 PBS documentary "Through a Dog's Eyes," which focuses on service dogs and the people they help. During a CBS News interview to promote it, he showed a photo of his and Burtka's other dog, a Cairn terrier named Fred. Watson, he said, was a rescue dog who is a "Labradoodle-Wheaten [terrier] mix." Harris and Burtka have been together for at least seven years. In November 2011, they
were honored by the L.A. Gay & Lesbian Center
at its 40th Anniversary Gala. The couple, which has supported the group and other LGBT organizations for years, was given the Rand Schrader Distinguished Achievement Award. "David and I don't really consider ourselves true activists," Harris said at the time. "There's a lot of other people who do that heavy lifting. Sometimes we choose to raise our voices so that the world can hear us but other times we want to, frankly, curl up at home and be a family together."
(Copyright ©2014 OnTheRedCarpet.com. All Rights Reserved.)
Sign up Stay Informed
Entertainment News