Entertainment News: morrissey
03/16/2013
Morrissey has canceled the rest of his North American tour dates after suffering several medical setbacks.
"The singer has suffered a series of medical mishaps over the past few months including a bleeding ulcer, Barrett's esophagus, and double pneumonia," Morrissey's spokesperson said in a statement released on Friday, March 15, according to Entertainment Weekly.
More morrissey
02/19/2013
Morrissey is set to have a meat-free show in Los Angeles.
The former Smiths frontman, who is an avid animal rights activist and vegetarian, is set to perform at the Staples Center in Los Angeles on March 1 - and there's no meat allowed, according to Reuters.
01/26/2013
Morrissey has reportedly been hospitalized in Michigan with a suspected bladder infection.
The 53-year-old singer's spokesperson confirmed the news to Reuters on Saturday, January 26. The singer checked into Beaumont Hospital in Royal Oak, Michigan, on Friday. It is unclear if the singer has been released from the hospital.
07/29/2011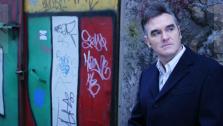 Morrissey is under fire for comparing the brutal Norway massacre to acts committed by fast food restaurants.
"We all live in a murderous world, as the events in Norway have shown, with 97 [sic] dead," the former lead singer of The Smiths said during a concert in Poland on July 24. "Though that is nothing compared to what happens in McDonald's and Kentucky Fried (expletive) every day."
Sign up Stay Informed
Entertainment News