Entertainment News: mitt romney
08/18/2012
Rage Against the Machine front man Tom Morello is not happy that Vice Presidential hopeful Paul Ryan is a fan of his music.
Mitt Romney's running mate recently told the New York Times that Rage Against the Machine was one of his favorite bands. Morello responded with a Rolling Stones op-ed, making it clear that the feeling isn't mutual.
More mitt romney
08/16/2012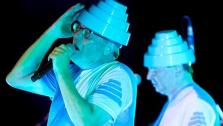 The band Devo has released the song "Don't Roof Rack Me, Bro! (Seamus Unleashed)," written from the perspective of Mitt Romney's Irish Setter, who the presidential candidate famously strapped to the roof of the family car in 1983.
"This isn't a red-state thing or Devo stumping for Obama," bassist-vocalist Gerald Casale told Rolling Stone magazine. "But I think any animal lover that hears the story will learn so much about the character flaw of Romney. It's just a deal-breaker about the man. My God, the world is a scary place with seven billion people. What you want in a leader is a guy with some humanity at his core. I just don't feel that Mitt does."
03/02/2012
Ted Nugent, a rock singer and guitarist known for his conservative views says he is supporting Republican candidate and fellow Michigan native Mitt Romney in the 2012 election.
"After a long heart and soul conversation with Mitt Romney today I concluded this good man will properly represent we the people and I endorsed him," Nugent Tweeted on Friday, March 2.
07/06/2012
Brad Pitt's mother Jane Pitt wrote a controversial letter slamming President Barack Obama, same sex marriage and "the killing of unborn babies."
The Op-Ed article, published in News Leader, was written in response to a previous letter urging Christians to avoid voting for Mitt Romney due to his Mormon beliefs.
07/16/2012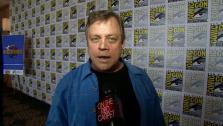 Mark Hamill says Republican presidential candidate Mitt Romney is "not actually human" and that people who don't vote to re-elect Barack Obama in the upcoming November election are "insane."
The 60-year-old actor, best known for playing Luke Skywalker in the original "Star Wars" films, made his remarks to OnTheRedCarpet.com at San Diego Comic-Con over the weekend while reminiscing about a show he used to watch as a kid - the Disney-produced 1950s series "Zorro."