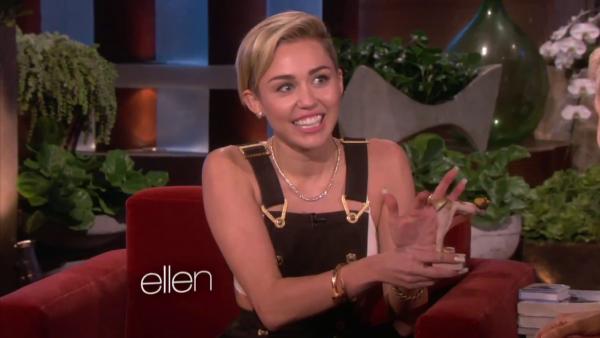 Miley Cyrus talks to Ellen about Liam Hemsworth, being alone (Video)
10/11/2013 by Corinne Heller
Miley Cyrus has broken her silence about ending her engagement to actor Liam Hemsworth, adding that she is finally happy about who she is and is "obsessed" with being alone for now. The 20-year-old pop singer, who spent most of her teenage years as the star of the Disney Channel series "Hannah Montana," has for the past month and a half been dominating headlines and social media due to her racy looks on screen and at public events. She was asked about Hemsworth on "The Ellen DeGeneres" show in an interview airing on Friday, Oct. 11. "Alright, so the last time you were here, I threw you an engagement party," DeGeneres told Cyrus, who appeared on the show in a pair of overalls over a white sports bra -- a more conservative outfit than the ones she has sported in recent weeks. "You want your money back?" Cyrus joked, as a video of a November 2012 interview in which the singer was surprised by male strippers was played on a monitor in the background. "I should've kept one of those dudes' numbers." It was announced in mid-September that
she and Hemsworth, her co-star from her 2010 film debut "The Last Song," had ended their more than one-year-old engagement
. Later, paparazzi photos of what appeared to be the actor kissing another woman surfaced online. They have not commented about them. When asked if she still speaks to Hemsworth, Cyrus told DeGeneres: "I, you know, for me, I haven't really gotten to see anyone right now 'cause I've been, like, so crazy busy. I'm just letting that chapter kinda close and just looking forward to that new one. So I wanna be really clear and determined with everything I'm doing in my life right now and I have been."
Miley Cyrus: "I'm obsessed with being alone"
Cyrus is promoting her new album "Bangerz," which she says constitutes a "story" about her life, including her relationship with Hemsworth, from the first track, "Adore You," to the last, "Someone Else," which contains the lyrics "If you're looking for love / Know that love don't live here anymore / He left with my heart / They both walked through that door, without me." "I think sometimes it takes you separating yourself from someone else to really be happy with who you are," she said, adding: "I've never been able just to be alone and I'm obsessed with being alone and like, hearing my thoughts." "I've asked everyone that kind of is around me, I'm like, 'Give me a list of your favorite movies, your favorite books, your favorite artists,' just so I can know more about the few people that I do have in my life and really know about them and really see what they're inspired by and also continue to just learn more, listen to every different style of music," she added. DeGeneres later showed Cyrus an action figure made in her likeness, which features her twerking and sticking out her tongue -- the singer's signature look for the past few months -- and presented her with a gift -- a white, mesh onesie with pasties and a white opaque crotch cover, which parodies an outfit Cyrus has worn in recent appearances. "Just in the front you're covered, not in the back," DeGeneres said, to which the singer replied: "That's why I like it." Watch videos of Miley Cyrus' interview on "The Ellen DeGeneres Show" below.
(Copyright ©2014 OnTheRedCarpet.com. All Rights Reserved.)
Sign up Stay Informed
Entertainment News