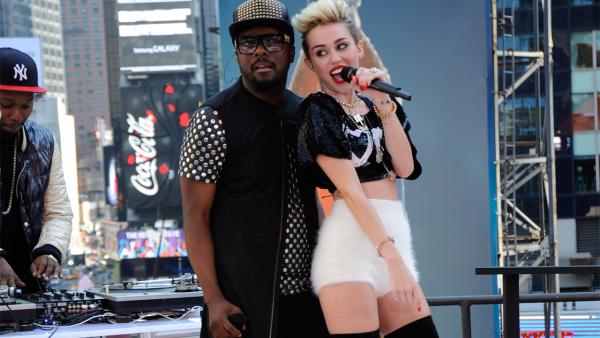 Miley Cyrus sings 'We Can't Stop' on 'GMA,' talks engagement (Video)
06/26/2013 by Corinne Heller
Wearing a sexy outfit featuring thigh-high boots, Miley Cyrus performed on ABC's "Good Morning America" on Wednesday, June 26, and talked about her record-breaking "We Can't Stop" music video and addressed a question about her engagement.
The 20-year-old former child star of the Disney Channel's "Hannah Montana" series sang the song in Times Square in New York City, outside the show's studios, before a screaming audience. She later performed "Fall Down" with special guest will.i.am. Cyrus, who flew from Los Angeles overnight, wore a black "I <3 NY" top and high-cut white shorts over black, thigh-high platform stiletto boots.
(Check out PHOTOS of Miley Cyrus on ABC's "Good Morning America.")
Her "We Can't Stop" music video was released earlier this month and broke a record on the video site VEVO for drawing the largest number of views in a 24-hour period. As of Wednesday, more than 33.7 million people have watched it. The video contains explicit images.
On "GMA," Cyrus was asked about what she would tell critics who find the clip too racy.
"They haven't partied in a while!" she said. "I was excited when the song came out but I really wanted the music video to come out 'cause I think it shows exactly where I was in that time in my life when we started working on 'We Can't Stop.'"
"The video's based off true events, some funny things that have gone down in my life," she added. " It's been great, I feel like, to have let people see that of me and not just be the like, glammed-up beauty shot girl, 'cause that's not who I am. I'm just about having fun."
Cyrus, who has more than 12.3 million followers on Twitter, praised her "bomb fanbase."
"They're the ones that are getting it to be 33 million views," she said. "And my whole thing is, haters are gonna hate, but the haters are also gonna click on your YouTube video to watch it. So I don't really care -- you helped me break the record, even if you were watching just to hate on me. And now I hold the record so I win."
Cyrus was also asked if wedding bells were in her future. The singer and actress announced in June 2012 that she and actor Liam Hemsworth, her co-star in the 2010 movie "The Last Song," were engaged.
She replied: "I'm wearing a ring, so ..."
(NOTE: OTRC.com, parent firm KABC Television and the ABC Television Network are owned by the Walt Disney Company.)
(Copyright ©2014 OnTheRedCarpet.com. All Rights Reserved.)