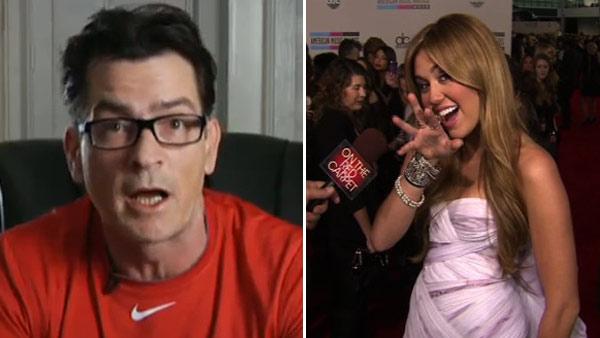 Miley Cyrus is 'epic,' Charlie Sheen says
04/05/2011 by Corinne Heller
Miley Cyrus is "epic," troubled actor Charlie Sheen says, days after the teen pop star rejoined Twitter after more than a year. The 18-year-old actress and singer, who rose to fame as the star of Disney Channel series "Hannah Montana," quit the social networking service in late 2009, saying in an
YouTube video that she wanted to keep her personal life private
. She had Tweeted that her then-boyfriend, actor Liam Hemsworth, did not use the service himself and wanted her to delete her account. On March 29, Cyrus surfaced on Twitter again under the username
gypsyhearttour
, referencing the name of her upcoming "Gypsy Heart" tour of South America and Australia, which begins at the end of April. Cyrus' spokesperson verified the authenticity of the Twitter account to OnTheRedCarpet.com. Sheen has making headlines over the past few months due to a rehab stint for alcohol and drug abuse, a custody battle with his estranged wife and on-air rants on television, radio and on the Web against the co-creator of his CBS comedy series, "Two and a Half Men." He was later axed from the show and producers said he had "been engaged in dangerously self-destructive conduct and appears to be very ill." The 45-year-old actor, who has struggled with substance addiction for years, gained a slew of new fans, especially younger ones, after he
joined Twitter
in early Marchjoined Twitter in early March. He often touts his live-in girlfriends, who are at least 20 years younger than him. For weeks, millions of people have recited quotes he has made in interviews and on Twitter that have now become catchphrases, namely the sarcastically-toned "Winning." (
Read some of Charlie Sheen's craziest quotes
.)
"Do not fear...the Sheenius is here!" a message on the gypsyhearttour Twitter
account said on Sunday. "I'm I'm not gonna lie. I came back to twitter for 2 reasons. My fans and to follow @charliesheen #winning."
A message on Sheen's Twitter page on Monday said: "Dear Miley, Welcome back to Twitter!
Always felt you were epic... Now you proved it! Thanks for the love! ybh c @gypsyhearttour." Sheen is currently on his first stage tour, as fans wait to see what the actor will do with his entertainment career.
Sheen's first show in Detroit on Saturday, April 2, did not go over well
, as audience members booed and walked out, but the actor earned a
standing ovation at a show in Chicago
a day later. Cyrus has undergone a turbulent year herself. She caused some controversy lwhen she showcased a more mature image in performances and music videos, which marked a sharp contrast to her "good-girl" "Hannah Montana" persona seen on "Hannah Montana," the show that made her a worldwide star. In October, her father and "Hannah Montana" co-star
Billy Ray announced he and her mother, Tish, were ending their 17-year marriage. He announced in mid-March that he had called off a divorce and that they were reconciling
.
In December, Cyrus was criticized after a video posted on TMZ showed her
smoking salvia, a herb legal in California, out of a bong and swearing. Cyrus later said the move was "a bad decision
." In Cyrus began her acting career when she was eight and rose to fame with her role on
"Hannah Montana," which ended in January
after four seasons. She starred in her first major film, "The Last Song", with Hemsworth, her on-again, off-again boyfriend, last year. On Sunday,
Cyrus won the Kids' Choice Award for Favorite Movie Actress for her performance (see a list of winners)
.
Hemsworth was recently cast in "The Hunger Games" alongside Jennifer Lawrence
, while
Cyrus is filming the sorority comedy "So Undercover" with friend Kelly Osbourne
, who also defended her after the "bong" video surfaced.
(Copyright ©2014 OnTheRedCarpet.com. All Rights Reserved.)
Sign up Stay Informed
Entertainment News