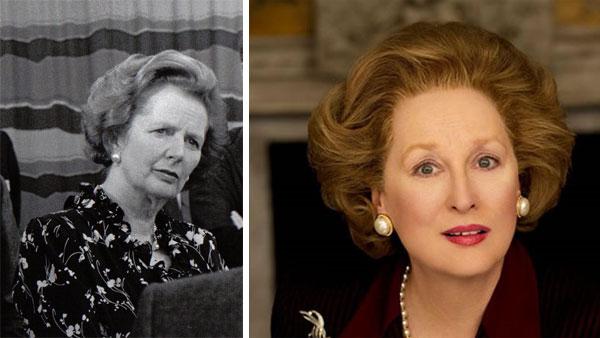 Meryl Streep is Margaret Thatcher in 'The Iron Lady' - see new poster
10/22/2011 by OnTheRedCarpet.com Staff
Meryl Streep plays former UK Prime Minister Margaret Thatcher in the new film "The Iron Lady" and a poster for the movie showing Thatcher's profile juxtaposed with the British Parliament building was recently released.
The movie, based on the nickname of the 85-year-old Conservative leader and Britain's first and only female prime minister, depicts how Thatcher "smashed through the barriers of gender and class to be heard in a male-dominated world," production company Pathe said in a statement.
The film's writer Abi Morgan recently said that Streep was "amazing" in her portrayal of the prime minister.
"The extraordinary thing is how quickly that voice was there," Morgan told the UK's Guardian. "It was amazing working with Meryl - once again, she's another dream actress, and a real privilege to write about such an extraordinary woman."
"The prospect of exploring the swathe cut through history by this remarkable woman is a daunting and exciting challenge," Streep, 61, said in a statement posted on the movie's official website. I am trying to approach the role with as much zeal, fervor and attention to detail as the real Lady Thatcher possesses. I can only hope my stamina will begin to approach her own!"
Filming on "The Iron Lady" began on January 31 and the movie is set for release on December 16 in the United States and on Jan. 6, 2012 in the United Kingdom. Its director is Phyllida Lloyd, who directed Streep in the 2008 film "Mamma Mia!"
Thatcher served as the UK prime minister between 1979 and 1990. She maintained a tough stance against communism, led the Conservative party in its battle against the nation's trade unions and helped secure the 1981 release of 52 Americans who were held hostage for 444 days by Islamic militants in Iran.
In 2008, it was revealed Thatcher, who survived an assassination attempt by the Irish Republican Army in 1984 and several small strokes in 2002, suffered from dementia.
The film is set in 1982 and tracks Thatcher in the 17 days before the two-and-a-half-month-long Falklands War, whose victory spurred increased approval ratings that ultimately helped lead her to win a second term.
Streep has won two Oscars and has been nominated for 16 of them. Aside from "The Iron Lady," the actress is preparing to star in the new comedy "Great Hope Springs," her spokesperson confirmed to OnTheRedCarpet.com. The movie is directed by David Frankel of "The Devil Wears Prada," which earned Streep an Academy Award nod.
"Great Hope Springs" is set for release in 2012, depicts a middle-aged couple who undergo counseling after 30 years of marriage. Others attached to star include Philip Seymour Hoffman and James Gandolfini of "The Sopranos."
Streep recently an honor from the Kennedy Center for her contributions to American culture through the arts. Other honorees include singer Neil Diamond, Broadway singer Barbara Cook, cellist Yo-Yo Ma and saxophonist Sonny Rollins.
Check out the poster and a teaser trailer for "The Iron Lady" below.</p
(Copyright ©2014 OnTheRedCarpet.com. All Rights Reserved.)
Sign up Stay Informed
Entertainment News